2018 CDI-W Wellington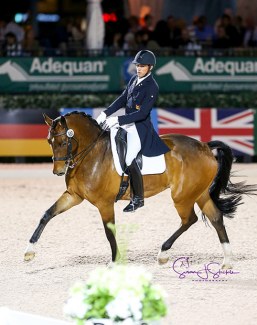 The iconic Palm Beach Dressage Derby exhibition class culminated during the break in the Grand Prix freestyle CDI-W at the Palm Beach Derby in Wellington, Florida on Friday 2 March 2018. Germany's Christoph Koschel, the defending champion, retained his title.
Koschel, a senior team championships medalist at the 2010 World Equestrian Games, has achieved the remarkable feat of not only successfully defending his Palm Beach Dressage Derby trophy, to his list of Derby wins that include the Hamburg and Munich classes, too.
"It was challenging and a lot of fun," he said of his ride in the final on Fausto, a 10-year-old bay gelding by Fidertanz normally ridden by Karen Pavicic. Both Koschel and Canada's Brittany Fraser made it through to the final in the afternoon's head-to-head knockout-style contest, beating Juan Matute Guimon and Olivia LaGoy-Weltz (USA) in the process. In all rounds, riders have just five minutes to familiarize themselves with an unknown horse before they perform a Prix st Georges test.
"This is what horse sport is about," added Koschel, whose 66.588% edged out Fraser's 65.206%. "It's a very short period of time to build a partnership, but it's great for the audience to watch. We need more classes like this to help make the sport exciting and accessible. I really liked the horse even though he was spooky to start with. And if I rode him again, I'd definitely choose smaller spurs as he was more sensitive than I was expecting!"
by Alice Collins - GDF press release
Photos © Sue Stickle
Related Links
Scores 2018 CDI-W Wellington - Palm Beach Derby
Christoph Koschel Wins 2017 Palm Beach Dressage Derby Knock Out
Palm Beach Dressage Derby Celebrates 30th Anniversary
Adrienne Lyle Wins Inaugural Derby Class at 2015 CDI-W Palm Beach Derby