2018 CDI-W Gothenburg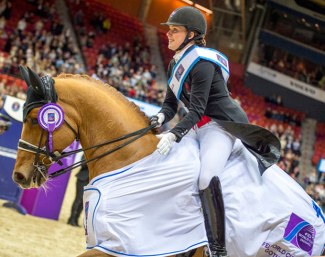 Denmark's Cathrine Dufour (26) and Atterupgaard's Cassidy brought the Swedish crowd to their feet with a spectacular performance to win the eighth leg of the World Cup Dressage 2017/2018 Western European League in Gothenburg (SWE) on Friday 23 February 2018.
Yesterday the pair that claimed individual bronze and team silver at last summer's 2017 European Championships in the same city pinned reigning series champion Germany's Isabell Werth (48) and Swedish star Patrik Kittel (41) into second and third in the Grand Prix, and this afternoon they did it again. But this time their winning margin was even more emphatic as the dynamic Danish duo earned a whopping score of 88.200.
That was put into perspective when multi-medaled Werth (Emilio) said "there is no shame in finishing second on 85 percent!", while Kittel (Delaunay OLD) was ecstatic about his mark of 83.615 that put him in third - "an all-time personal best for me!" he said. Dufour could hardly believe what she had achieved.
"I was nervous because this was the first time for us to do this Freestyle floor-plan," said Dufour. "Cassidy can be spooky because he's a very sensitive horse, but today he was so calm. He was with me every moment of the way and I'll never forget that standing ovation!"
The Swedish spectators held their breath as the Danish partnership performed in complete harmony before exploding with excitement when the horse and rider drew to a halt. Dufour said that Denmark's Princess Nathalie zu Sayn-Wittgenstein has helped her really raise her game over the last few months. "Rune Willum was my trainer for 15 years and he was like my second father, but in December I started working with Nathalie, and now she is my rock!", she explained after posting her second personal-best score of the weekend.
Today's result has moved her up to 12th place on the Western European League leaderboard from which the top nine will qualify for the Final in Paris (FRA) in April. Dufour is hoping to make the cut even though she doesn't intend to compete at the last qualifier in 's-Hertogenbosch (NED) in two weeks time, but Werth will definitely be at the Dutch fixture with Emilio whose confidence and character continues to grow.
"Give us one more year to make his canter as good as the piaffe/passage and you will see what more we can do!" said the happy German rider who intends to defend her title at the French finale with her top ride, the Olympic and European gold-medal-winning mare Weihegold.
She'll be the toughest nut to crack, but today Dufour showed that the winds of change are blowing once again through the top ranks of international Dressage and that she and her fabulous chestnut gelding are a major force to be reckoned with.
Germany' Jessica von Bredow-Werndl and Unee BB, who were fourth in the Grand Prix, had to retire in the Freestyle after the stallion took off in the extended canter and got spooky and unsettled in the arena.
World Cup Dressage Western European League standings:
1 Patrik Kittel SWE - 74
2 Dorothee Schneider GER - 72
3 Jessica von Bredow-Werndl GER - 59
4 Daniel Bachmann Andersen DEN/Tinne Vilhelmson Silfven SWE - 54
6 Belinda Weinbauer AUT/Emile Faurie GBR - 53
8 Fabienne Lutkemeier GER/Madeleine Witte-Vrees NED - 50
10 Morgan Barbancon Mestre ESP - 43
11 Marcela Krinke Susmelj SUI - 42
12 Cathrine Dufour DEN/Hayley Watson-Greaves GBR - 40
Complete standing here.
Text by Louise Parkes (FEI Press release) - Photo © FEI
Related Links
Scores 2018 CDI-W Gothenburg
Dufour Proves She'll Make 2018 a Bit More Difficult for Werth
Eurodressage Coverage of the 2017-2018 World Cup Show Season