2018 CDI-W Neumunster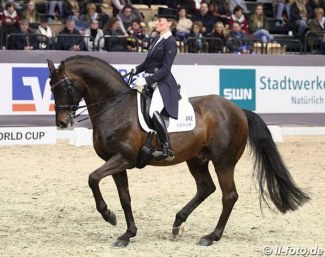 The extraordinary ups and downs of sport were highlighted once again at the 2018 CDI-W Neumunster on Sunday 18 February 2018, when Helen Langehanenberg (35) and Damsey sealed a superb victory at the seventh leg of the World Cu Dressage 2017/2018 Western European League on home soil in Neumünster, Germany.
At the previous round in Amsterdam (NED) three weeks ago, the 2013 FEI World Cup Dressage champion had to retire when her 16-year-old stallion got his tongue over the bit and their performance fell apart. In the Neumunster Grand Prix kur, however, it was perfect harmony every step of the way as their strong score of 83.800 pinned compatriots Dorothee Schneider (49) and Sammy Davis Jr into runner-up spot while Denmark's Daniel Bachmann Andersen (27) and Zack slotted into third.
"This was maybe our best result ever - Damsey felt great, he had the perfect mixture of freshness and motivation and he just performed the way every rider wants, the communication between us was really easy!"
The atmosphere in the Neumünster arena is notoriously intense. As runner-up Schneider said, "everything about this show is brilliant, especially the crowd who are so close that it feels like they are also riding your horse!" That didn't stop her from posting 81.565 for second place and moving even closer to Sweden's Patrik Kittel at the top of the Western European leaderboard.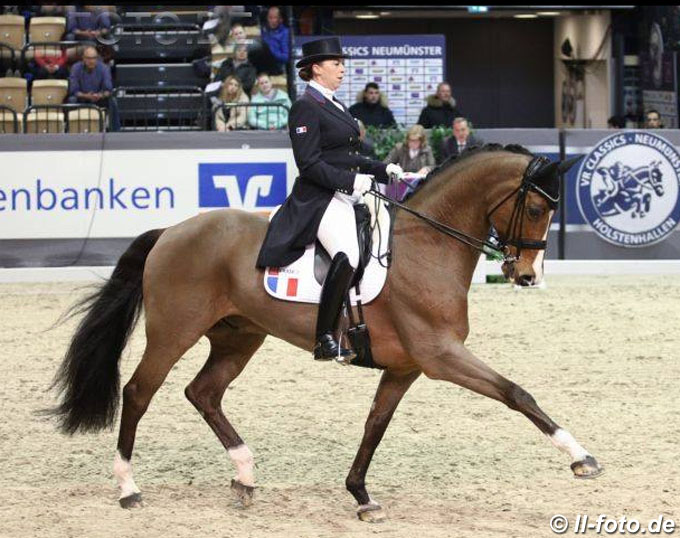 With just two qualifiers left to go, in Gothenburg (SWE) next weekend and 's-Hertogenbosch (NED) two weeks later, that's a really good place to be, because only two German riders can join defending champion Isabell Werth at the Final in Paris (FRA) in April, and sealing one of those two spots is a battle in itself. A total of nine riders, and a maximum of three from any nation, can make the cut from the Western European series.
Spain's Morgan Barbancon Mestre, fourth to go with Sir Donnerhall ll, caused a stir when stopped by the Ground Jury because her floorplan had been changed overnight. When this was resolved she was allowed to compete, but it was Marie Emilie Bretenoux and Quartz of Jazz from France who led the way at the halfway stage with a mark of 76.300. This however would be improved on again and again, Denmark's Bachmann Andersen presenting a lovely picture of relaxation and balance with Blue Hors stud's 14-year-old Dutch stallion that rocketed him into the lead on a big mark of 81.475 with six left to go.
Langehanenberg pushed him off his pedestal immediately however and Schneider then pinned him back to third, but the talented Dane has now moved into joint-fourth on the leaderboard and looks set to make a big impression at the Final. Today's winner won't make it to Paris. "I'm expecting a baby in June, so this was our last show before that and it's the perfect result! I hope to be back in the saddle again in July though!", Langehanenberg explained.
<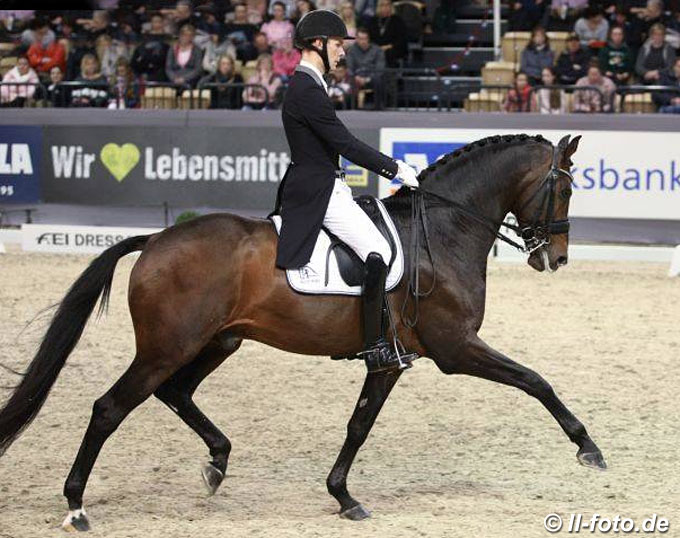 strong>FEI World Cup™ Dressage Western European League standings:
1    Patrik Kittel SWE        7
2    Dorothee Schneider GER    7
3    Jessica von Bredow-Werndl GER    5
4    Tinne Vilhelmson Silfven SWE    54
4    Daniel Bachmann Andersen DEN    54
6    Fabienne Lutkemeier GER        50
6    Madeleine Witte-Vrees NED    50
8    Emile Faurie GBR        44
9    Morgan Barbancon Mestre ESP    43
10    Marcela Krinke Susmelj SUI    42
Text by Louise Parkes - FEI Press release
Related Links
Scores 2018 CDI-W Neumunster
Eurodressage Coverage of the 2017-2018 World Cup Show Season