2018 CDI-W Wellington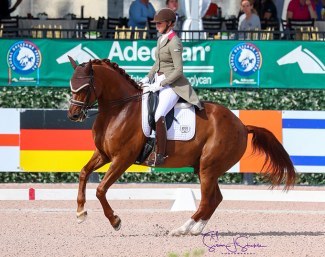 The smile on Heather Blitz's face when talking about Praestemarkens Quatero is a clear indication of how highly she rates the nine-year-old, winner of the Intermediate I Freestyle CDI3* clas with 73.6% on the last day of competition, Sunday 28 January 2018, during the third show week at the Global Dressage Festival in Wellington, Florida.
Blitz smiled with good reason as she produced a small tour hattrick on the weekend.
"I knew his dam by Rohdiamant while I was living in Denmark and suggested to his breeder, Inger Recht, that she use the stallion Quaterback on her," she explained. "I moved back the US, but when 'Q Ball' was six, they asked if I'd like to try him. When I sat on him he felt like he was already my horse; like putting on a familiar pair of jeans."
Their small tour freestyle began with halt to canter, and included extended canters down the center line into tight pirouettes, flying changes on tight, curving lines and shoulder-in performed on the center line. The only blip was a stride of canter in the trot half-pass right, but they were on the beat of the music throughout and it was more than enough to convince the judges to award victory to the pair.
Imported to the U.S. in early 2015, Praestemarkens Quatero has been in trying with Blitz in Florida and the two have been building a strong rapport. That bond appears rock solid as they have won eight of their nine CDI starts.
"Q Ball is extremely powerful with a big personality and always wants to give 120%. But the power works in his favor, and he now trusts that I know what I'm doing. His confidence is growing with each test," added Blitz, 49, who credits work out of the saddle including yoga, pilates, weight lifting and cardio, for her ability to "keep up with the youngsters in the sport".
Their next stop, after a couple of rest weeks, is the CDI in Tryon, North Carolina, in mid April, where Blitz will also be coaching her pupil, Paralympian Annie Peavy, who will contest the CPEDI the same weekend.
Second-placed Eliane Cordia van Reesema (USA) was also riding a nine-year-old, her own Cristallo gelding, Codiak, who scored 71.725%. Canada's Tom Dvorak finished in third on Ribot with 71.25%.
In the amateur division Intermediate I CDI class, Sonia Zügel and Hemingway (her own 14-year-old by His Highness) claimed the blue ribbon with 63.647% ahead of Amanda Lopez's two rides, who both finished on 63.059%. She took second on Taranco and third on Quantum, split on collectives alone.
by Alice Collins for GDF - Photos © Sue Stickle
Related Links
Scores 2018 CDI-W Wellington
Lyle and Salvino Take Two at 2018 CDI-W Wellington
Graves Sweeps World Cup Qualifier at 2018 CDI-W Wellington
Graves Returns to Winning Ways at 2018 CDI-W Wellington