2018 CDN Esbjerg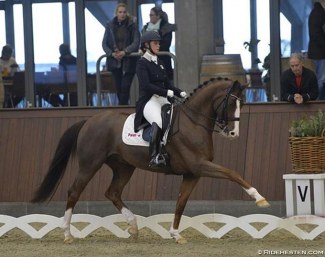 The weekend of 19 - 21 January 2018 national shows in Holland, Germany and Denmark drew out the big shot riders with their Grand Prix debutants. Interesting action was to be found at the CDN's in Esbjerg (DEN), Ankum (GER), Bunschoten (NED), and Nieuw en St. Joosland (NED).
In Esbjerg a pregnant Anna Kasprzak took her 9-year old Swedish warmblood Quarton (by Quaterback x Don Schufro) in his first Intermediaire II test and won the class with 74.824%. A day later she scored 73.770% in another Intermediaire II. Daniel Bachmann Andersen has a new Grand Prix star in the making. With the Blue horse stud owned Zepter (by Zack x Wolkentanz II) he scored 74.433% to win the Grand Prix. Kasprzak came in second on Rockstar (by Rockwell x Weinberg) with 72.433%.
At the national show in Nieuw en St. Joosland, The Netherlands, Hans Peter Minderhoud took his 10-year old Dutch warmblood stallion Dream Boy (by Vivaldi x Ferro) into the Grand Prix ring. In October the pair has already won an Intermediaire II with 74.67%, but this weekend he steered Dream Boy through his first Grand Prix and got 74.80% from the judges. Madeleine Witte-Vrees placed second on Wynton (by Jazz x Matador) with 74.75% in that Grand Prix test. Witte won the Intermediaire II aboard Charmeur (by Florencio x Jazz) on 70.00%.
At the national show in Bunschoten, The Netherlands, Diederik van Silfhout returned to the arena with his Dutch Indoor Small Tour champion Expression (by Vivaldi). The bay stallion hadn't been out in 11 months and did his first Intermediaire II test, scoring a whopping 75.29%.
Tommie Visser made his Grand Prix debut on Chuppy Checker CL (by Osmium x Balzflug) one week ago and scored 68.80% at the time.
At the 2018 CDN Ankum in Germany, Insa Hansen finished second aboard Elena Knyaginicheva's 12-year old Hanoverian stallion Der Designer (by De Niro x Weltmeyer)  on a score of 71.008%. The horse was previously trained to schooling Grand Prix level by British Michael Eilberg before returning back to Hof Kasselmann where the owner purchased the stallion.  
Spanish team rider Borja Carrascosa scored a victory aboard Hofmann's 9-year old Westfalian gelding Ein Traum (by Estobar x Florestan) on 72.752% in the Short Grand Prix. Former German pony team rider Hannah Cichos rode her 9-year old Holsteiner stallion Dias de Rio (by De Chirico x Aljano) to a third place in that class with 68.605%. Former young rider Johannes Ruhl ranked right behind her on Dante (by Tuschinski x Havidoff) on 67.248%.
Former German Young Rider team member Jil Marielle Becks premiered Damon's Satelite (by Damon Hill x Rubin Royal) at Intermediaire II level and won the Saturday class with 72.719%. Carrascosa and Ein Traum were second (71.053%). In that same test Lyndal Oatley made her come back on the 10-year old Swedish mare Diva (by Richfield x Silvano), finishing 5th with 68.684%. Diva was last competed internationally at the 2015 CDIO Compiegne almost three years ago. After doing the national class in the 7-year old division in Falsterbo in July 2015, the black mare developed serious health issues which put her in the clinic and then meddled with her physical condition for a long time. Back in work since late 2016, Diva was being prepared for her GP debut as Lyndal took a year off from competition in 2017. British young rider team member Elle McCarthy is gaining mileage on her new horse, the 13-year old Oldenburg stallion Sir Lancelot M (by Lordanos x Ginsberg) and finished 10th in that class with 66.842%. McCarthy is currently living and training in Germany with Helen Langehanenberg. Aboard her team horse Donna Summer she was 22nd with 63.947%.
Bernadette Brune returned to the show ring on the 14-year old Hanoverian gelding Lights of Londonderry (by Londonderry x Weltmeyer) who injured himself at the 2017 CDIO Rotterdam last year. The chestnut scored 70.588% in Friday's Grand Prix Special. In Thursday's Grand Prix she was 9th with 67.067%.
In the developing Prix ST Georges horse class on Thursday, the Danish warmblood licensed stallion Torveslettens Fifty Fifty (by Furstenball out of Torveslettens Stamina (by Stedinger)) resurfaced in public. The stallion is ridden by Russian Ekaterina Podlytkina. She scored 56.429% and finished 13th in that test.
Photo © Ridehesten
Related Links
Sa Coeur and Der Designer Return to Germany, Collaboration with Eilberg Ended
Debutants Rule Nationals Shows in Ankum, Kronenberg, Ebreichsdorf
Anna Kasprzak Makes Grand Prix Debut on Rock Star
Glock Acquires Co-Ownership of Dream Boy
Van Peperstraten, De Koeyer, Van Silfhout, Nekeman, Van der Putten Win 2017 Dutch Indoor Championships