2018 CDI Aachen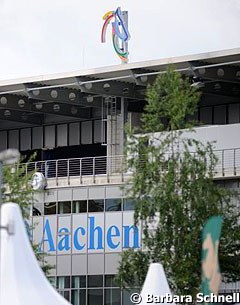 The legendary show grounds of the CHIO Aachen will be host to a further two international dressage competition, in addition to its annual, prestige summer event, the CHIO Aachen in July.
The local Aachen riding club "Aachener Dressurverein", led by the Kun-Dahmen family, has rented the Aachen dressage facilities and outdoor training rings to stage two international dressage competitions: A CDI 3* and a CDI-PJYR. 
The two dates that have been booked with the FEI for these events are 16 - 18 April 2018 (CDI-PJYR) and 28 - 30 May 2018 (CDI 3*).
Eurodressage contacted CHIO Aachen show director Frank Kemperman for more information. He stated, "other clubs or private organizers are sometimes renting our accommodation to organize lower level events . Now a local club is planning to organize an outdoor dressage event at the training area, but at the moment there is only an option for (one of) these dates. So this is not an organization of the CHIO Aachen team."
Kemperman added that the April date is secure but that they are still negotiating with another event about the May date for the 3*.
The Aachen show grounds have hosted the German Youth Riders Championships on several occasions in the past, the last edition in 2017. This winter the Aachener Dressurverein staged their first indoor CDI-PJYR competition in December.
Related Links
Treffinger and Top Queen H on Song at 2017 CDI-PJYR Aachen
Rohmann and Holzknecht Top Divisions at 2017 CDI-PJYR Aachen
Middelberg, Allard, Rothenberger Win the 2017 German Youth Riders Championships