Spain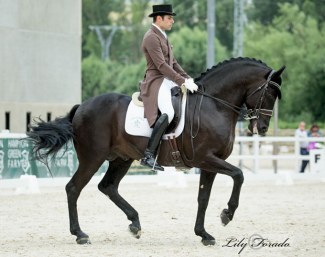 The Spanish Equestrian Federation (RFHE) has announced the senior Grand Prix combinations which have been invited to the first squad training clinic with team trainer Rudolf Zeilinger in January 2018. 
The RFHE annually organizes squad training sessions with all team trainers before the start of the outdoor competition season. It will give the team trainer an idea of the level of the horses and will form the starting point for official squad selection for CDI participation.
The training sessions are divided in three geographical zones: the south, centre and east of Spain. The clinics start in the south at Dos Lunas in Malaga (29 January - 1 February 2018), followed by the central clinic at Campo Villa de Madrid (5 - 8 February 2018) and finally the eastern clinic in Barcelona at the Open Sports Club (12 - 15 February 2018).
Zeilinger heads the senior Grand Prix training sessions, Rafael Soto is the team trainer for the national promotion squad and young horse squad and Jenny Eriksson is the team trainer for the youth riders. 
The Grand Prix combinations invited to the training sessions are:
Beatriz Ferrer Salat - Elegance
Jordi Domingo - Statesman
Agustí Elías - Altaneiro
Jose M. Lucena - Wolk
Rosa Tarrasón - Amarelo 
Sandra Peña - Sabbatik Rubi
Juan Lecina - Vetusto - 
Lauro Aguiló - Etosha and Bojangles
Juan Perez Pulido - Sir Marq
Juan Lecina - Yerbero
Claudio Castilla - Alcaide, Caramba and Icaro LIX
Sergio Martín Palos - Batuta
Juan A. Jimenez - Sunny Boy
Ismael Sánchez - Dominante 
Valvanera Palacios - Don Corleone
Brigitte van der Hagen - Rupert
Angel Dorado - A Whisper van de B
Miguel Ruiz - Roscatelli
Antonio Verdejo  - Kafu
Sonsoles Roldán - Deo HPV
Belén Bautista - Fenol
Jose Antonia García Mena - Benzi
Jose Ignacio López - Naipe XIII
Cristóbal Belmonte - Diavolo de Laubry
Alejandro Asencio - Dalio IX 
Alfonso Expósito - Triguena
Rafael Reguera - Branco IV
Anthony L Pelling - Napoleon Candau
Juan Manuel Muñoz - Divertido de Sasa
Jose Daniel Martin Dockx - Oxido
Cristina Durán - Manchego ARB
Rafael Reguera - Branco
Photo © Lily Forado
Related Links
Jenny Eriksson Appointed New Spanish Youth Team Trainer
Spanish Elite Riders Meet with New Team Trainer Zeilinger for First Time
Rudolf Zeilinger Appointed New Spanish Team Trainer