The Netherlands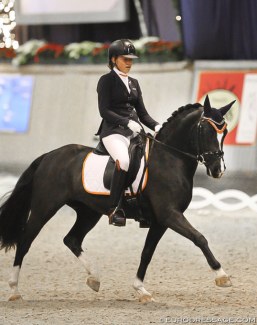 The Dutch Equestrian Federation has announced the dressage squads at the beginning of the 2018 show year. The federation has set new criteria to make it into the A- and B-team per division.
For senior Grand Prix riders to be submitted into the A-team, riders have to score 72% in the Grand Prix at a minimum of 3 shows within a 9 month period. Two of those scores have to be achieved at a CDI. For the B-team they have to score 70% at 3 shows, of which 2 are international competitions.
For all youth team squads, including the Under 25, riders have to score 71% in the team test at three shows of which one CDI within 9 months for A-team submission. For the B-team they have to score 69% (3 shows, 1 CDI).
Biggest absentees from the senior squads are former A-team members Hans Peter Minderhoud (Johnson, Flirt) and Emmelie Scholtens (Apache). Both riders did not have the three required scores to be squad listed.
The Dutch dressage squads for 2018 are:
Senior A-Team
Gal, Edward  - Voice and Zonik
Van der Meer, Patrick - Zippo
Van Silfhout, Diederik  - Four Seasons
Witte-Vrees, Madeleine - Cennin
Senior B-Team
Cornelissen, Adelinde - Aqiedo
Gevers, Katja - Thriller
Haazen, Jeannette - Dabanos D'04
Heijkoop, Danielle - Badari
Zweistra, Thamar - Hexagon's Double Dutch
Under 25 A-Team
Meulendijks, Anne - Avanti
Nekeman, Denise - Boston
Under 25 B-Team
Nieuwenhuis, Jeanine - TC Athene
Van der Vlist, Maxime - Bailey
Young Riders A-Team
Young Riders B-Team
Oudhof, Bo - Colt Sollenburg
Donkers, Esmee - Zaffier
Zoutendijk, Lisanne - Ringo Star
Van Zwambagt, Febe - FS Las Vegas
Junior Riders A-Team
Kuintjes, Zoe - Brittsion
Van Peperstraten, Daphne - Cupido
Junior Riders B-Team
Rockx, Thalia - Golden Dancer de la Fazenda
Siemer, Florence - Zidane
Children A-Team
Van der Pols, Sanne - Excellentie
Children B-Team
Buijs, Sanne - Happy Feet
Nek, Lara - Fariska
Pony Riders A-Team
Schelstraete, Micky - Elin's Noncisdador
Pony Riders B-Team
Baars, Shanna - Don Camillo du Bois
Gilders, Thessa - Baumann's Despino
Van der Pols, Sanne - Orchid's Syria
Prinsen, Fleur - Next Black Magic
Romney, Kiki - Reedborder Amazing
Van Rooij, Evi - King Stayerhof's Jango
Zwaagstra, Esmee - Desperado
Related Links
2017 Action Plan for Dutch Grand Prix Dressage Disclosed
Dutch Grand Prix Squads for 2017 Announced
Madeleine Witte-Vrees Temporarily Suspended from Dutch A-Team