Portugal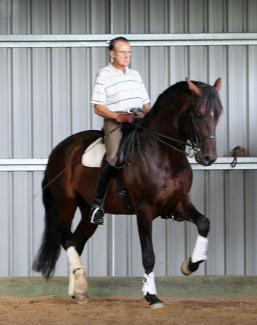 Renowned Portuguese classical dressage trainer Miguel Tavora has passed away on 29 December 2017 after a period of illness. He was 74 years old.
Tavora had been hospitalized and shared his last public message from the hospital on 15 October, already bidding farewell to his friends world wide.
"It has been God's decision to bring me back home sooner than expected," he wrote at the time. "Unfortunately this news has come as quite a shock to us all. I am currently very fortunate to be spending this time with loved ones, both friends and family. Today I got to spend some time with my grandson which brought me enormous joy. He has given me great strength at this time. Additionally bringing me great comfort is the knowledge that so many people are already thinking and praying for me."
Major Miguel de Lancastre e Tavora (Abrantes) was born in Lisbon, Portugal, son of the ninth Marquis and Marchioness of Abrantes.
He was greatly influenced by his one of his first dressage trainers, the legendary Nuno Oliveira, with whom he started riding at the early age of 8. Tavora was trained by Oliveira for the next ten years. At age 14 Miguel had trained his first horse all the way up to Grand Prix level.
In his military career he completed the Course of Instructors and later the Course of Masters as the Portuguese Military  and Civilian Riding Academy of Mafra (CMEFED). Tavora was a versatile rider who rode in all three Olympic disciplines: dressage, eventing, and show jumping. He was later appointed as the Chief Instructor and the Director of the Equestrian Division of the Mafra School.
in 1982, Nuno Oliveira arranged for Miguel to emigrate to Sydney, Australia, where he founded his own training stable, M & D Tavora School of Equitation, with wife Dianne. 
Tavora taught clinics all over the world and had a great following. He published a book on classical dressage training (Conceitos Equestres – Princípios e Técnicas) and contributed with training articles for the Australian Horse Magazine.
Related Links
Common Sense Prevails at 2010 International Dressage Forum
Eurodressage Articles on Classical Dressage Training