Canada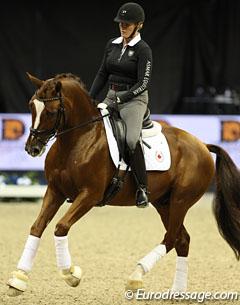 Equestrian Canada (EC) has launched a Dressage Young Horse Development Program. This program promotes the proper development of young horses, ages 5 to 7, in anticipation of future international success.
Aimed at horses between the ages of five and seven, the Program will serve to identify up-and-coming talent, and encourage owners to work with skilled, Canadian certified trainers.
This elite young horse programme is restricted to horses being ridden by recognized Canadian riders and trainers.
Equestrian Canada stipulates that in order to participate, horses must be ridden by (and in full training with) an athlete, who is either EC Certified High Performance Coach, or by a current or former Canadian Equestrian Team (CET) member, or by a current National Team Program athlete
The program provides national ranking recognition, and horses will be expected to progress in their training to achieve minimum performance standards throughout the season. Each year, horses must achieve a minimum of four scores of 68% or better at EC Gold, Foreign National or CDI competitions, in order to be ranked.
Once enrolled in the program, participants will receive invitations to a minimum of two training sessions per year with FEI certified young horse dressage judges and international young horse development experts.
To participate, applications have to be sent in by 1 January 2018.
Photo © Astrid Appels
Related Links
Entertainment and Education at the 2017 World Cup Finals in Omaha
Gillian Duke and Riverside, Canadian Representatives at 2005 WCYH in Verden
Canadians Dominate 2017 CDI-W Devon
Canadian Horses Selected for 2004 World Young Horse Championships
Young Canadian Dressage Horses Shine at 2001 World Young Horse Championship