2017-2018 KWPN Stallion Competition Circuit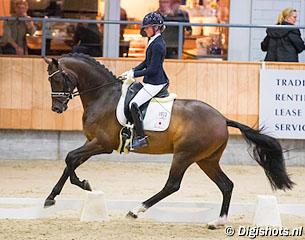 The 4-year old Intro K, the 5-year old Henkie and the 6-year old Gunner KS became the winners of the second qualifier for the 2018 KWPN Stallion Competition Finals to be held at the KWPN Stallion Licensing in February. The second of three qualifiers was held at equestrian centre De Peelbergen in Kronenberg, The Netherlands on 18 December 2017.
In the L-level division for 4-year olds no less than 18 combinations showed up. Femke de Laat steered the bay Intro K (by Apache x Rousseau) to victory. They scored 84 points. Judge Karin Retera praised the horse for its elegant, lightfooted movements and willingness to work. At the first qualifier De Laat and Intro K landed in the middle of the field, but in Kronenberg they topped the ranking. Emmelie Scholtens and the KWPN licensing champion Indian Rock (by Apache x Vivaldi) were the runners-up with 83 points. They tied in second place with Bart Veeze on Imposantos (by Wynton x Krack C).
In the M-level division Adelinde Cornelissen and her Gelderlander stallion Henkie (by Alexandro P x Upperville) beat their warmblood peers on a total score of 88 points. Judge Retera praised Henkie for his phenomenal walk and self carriage in trot. Dinja van Liere and the black Total U.S. (by Totilas x Sir Donnerhall) were second with 85 points. 
At Z-level there were only two horses in the class. Dana van Lierop and Gunner KS (by Belissimo M x  Vincent) paid special tribute to the stallion's recently deceased owner and breeder Arthur Kleijwegt by winning the class with 80 points. Gunner KS stands out with his exceptionally uphill canter work. Kirsten Brouwer and Ghandi (by Bojengel x Tuschinski) were second on 79 points. 
Results - 2017 KWPN Stallion Competition - Kronenberg
L-level
1. Femke de Laat - Intro K (by Apache x Rousseau) - 84
2. Bart Veeze - Imposantos (by Wynton x Krack C) - 83
2. Emmelie Scholtens - Indian Rock (by Apache x Vivaldi) - 83
4. Joyce Lenaerts - Iconic B (by Bon Bravour x Jazz) - 81
5. Renate van Vliet - In Style (by Eye Catcher x Lorentin I)  - 81
6. Danique Janssen - Indigro (by Negro x Jazz) - 80
7. Charlotte Fry - Inclusive (by Everdale x Uptown) - 77
8. Hans Peter Minderhoud - Incognito (by Davino VOD x Vivaldi) - 76
8. Diederik van Silfhout - Furst Jazz (by Furst Romancier x Painted Black) - 76
10. Moises Javer Azuar - Imagine (by Chippendale x Jazz) - 75
10. Hans Peter Minderhoud - Dettori (by Desperado x De Niro) - 75
10. Benjamin Maljaars - Inverness (by Everdale x Johnson) - 75
13. Diederik van Silfhout - It's A Pleasure (by Dark Pleasure x Zack) - 72
13. Benjamin Maljaars - Inspire (by Everdale x Don Romantic) - 72
15. Diederik van Silfhout - Impression (by Don Schufro x Ferro) - 71
16. Denise Nekeman - I'm Perfect STH (by Zack x Fidertanz) - 70
16. Carlijn Vaessen - Invershin (by Charmeur x Balzflug) - 70
18. Marjan Hooge - Hoogadel (by Hofrat x Del Piero) - 67
M-level
1. Adelinde Cornelissen - Henkie (by Alexandro P x Upperville) - 88
2. Dinja van Liere - Total U.S. (by Totilas x Sir Donnerhall) - 85
3. Kirsten Beckers - Habanna (by Vivaldo x Van Gogh) - 82
3. Dinja van Liere - Hermes (by Easy Game x Flemmingh) - 82
5. Remy Bastings - Hennessy (by De Niro x Jazz) - 79
6. Kirsten Brouwers - Hummer (by Westpoint x Farrington) - 77
7. Bart Veeze - Daily Diamond (by Daily Deal x Furst Heinrich) - 75
8. Diederik van Silfhout - Hometown (by Apache x Ferro) - 71
Z-level
1. Dana van Lierop - Gunner KS (by Belissimo M x Vincent) - 80
2. Kirsten Brouwer - Ghandi (by Bojengel x Tuschinski) - 79
Related Links
Indian Rock, Total U.S, Giovanni Win First Leg of 2017-2018 KWPN Stallion Competition in Ermelo 
Arthur Kleijwegt Passed Away