What's Happening in the Dressage World?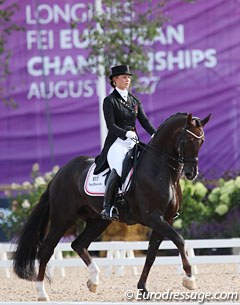 Double Danish Olympic team rider Anna Kasprzak is pregnant with her first child. The 27-year old Anna and her 30-year old partner Mathias Skov Rasch will become first time parents.
"It's best to have children when we are young, strong and healthy and don't mind the lack of sleep," Kasprzak said smilingly.
Kasprzak is still riding at the moment.  "I'm careful not to take any chances. When I notice I get nervous or uncomfortable I will stop riding," said Kasprzak. "You're not often in this (pregnant) situation so I will probably stop riding 3 to 5 months."
Her coach Andreas Helgstrand and her own staff will make sure the horses stay trained and in shape.  Anna hopes to stay in the running for Danish team selection for the 2018 World Equestrian Games in Tryon.
"Pepe has been fresh the entire season. I just have to be 100% sure it's the right thing to do," said Anna. "When it doesn't fit, or it doesn't feel right, I won't do it. One thing is sure; once have the little baby and have it with me, it makes sense for me to go to WEG."
The gender of the baby is not yet known. The baby is due on 30 April 2018.
Source: Ridehesten - Photo © Astrid Appels
Related Links
Kasprzak and Quarton Impress the Judges and Win 2017 CDIO Aachen Prix St Georges
Anna Kasprzak Adds For Emotion to her String of Horses
Kasprzak Shows the Way in Nations Cup at 2017 CDIO Uggerhalne