Opinions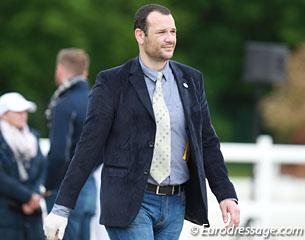 Guest columnist of the week is Milan Djordjevic, a Serbian born FEI steward, who has worked at numerous high profile dressage competitions in Europe for the past 10 years. Djordjevic has worked in national sport in the Balkan region as a rider, coach, dressage judge, steward, and event organizer for almost 20 years.
"I have experienced the strengths, weaknesses, opportunities and threats in the Balkan region," Milan told Eurodressage. "This region has its opportunities, but the whole area has been underestimating and ignoring the magical closed circle of knowledge in every aspect. We need to give another boost of strength and opportunity to our region and eliminate weak human basic instincts and threats which have kept us from developing a sustainable equestrian sport."
Sustainable Development of Equestrian Sport and Horsemanship in the Balkan Region

The dressage family grows every year with new guns from all over the Europe. Or, is it truly all over the Europe? There is part of the continent with a population of over 130 million people, in which equestrian sport is at the tail of the European equestrian family. Riders from the Balkan region all want to become part of globe trotters, but quality in every aspect of horse sport is largely missing, since a part of South-East Europe seems closed in, as if in magic circle, of limited knowledge and funds.
Since the Balkan region is a victim of that limitation, challenges for the Balkan national federations are even bigger. The Balkan region has 11 National Federations recognized by FEI and EEF, and only one, Slovenia, hosts an international dressage competition in Lipica (CDI-W, CDI3*). Other countries organize the Balkan Dressage Championships with more or less success as 40 up to 60 riders competing in the children, junior, young rider and senior (small tour) division. We can't talk much about number of riders and the quality of horses -- and there are quite a few really good ones from time to time -- but other than that, there are no dressage competitions and no international standards for dressage show organisation. In other disciplines there are some, but still we can't talk really about a middle or high standard nor of the quality of horses, riders and trainers in the middle of Europe.
For a long time the Balkan NFs get involved in some international brotherhood and solidarity programs, as well as a regional dressage forum, but is that something that will build up the whole sport? So far it doesn't look like it, since we haven't seen any Balkan riders at major dressage championships in past few decades. Eurodressage follows dressage worldwide, and reported on the appearance of some riders from Balkan countries.  However, occasional appearances of personal initiatives are not what we call sport development. There has to be more development done and activities hosted in the Balkan countries, supported and motivated by an international system of sport.
The Balkan region is part of Europe. Five countries are members of European Union, but we can't say the area is a "member" of European quality and standard in equestrian sport. With certain mutual initiatives we could make sustainable, long-term progress in the future. In its turn this will motivate all stakeholders more to invest in the Balkan equestrian family and get great pleasure in the future.
There are very limited resources for acquiring new knowledge, and even maintaining the gained one. There are very few trainers, athletes, officials that manage to reach European quality by using all their capacities. Very few of them reach international standards, but we believe that those standards should be brought to Balkan, by creating opportunities to empower regional competitions and bring international standards to the Balkan.
As the FEI has set globality as one of its key goal for the development of the sport (bringing more nations to equestrian sport) and its major Championships and Olympic Games, Balkan equestrian sport could be massively moved if opportunities were given to the best placed Senior riders and team at Balkan Championship in all FEI recognized disciplines to take part at European, World Championships and Olympic Games; of course answering to clear qualification criteria set in advance and supported by FEI. Those should exclude all imaginable non-sportive and manipulative methods.
By supporting the best placed team at the Balkan Championships, the FEI would open a door to athletes to see a future and get a great boost of motivation for their participation at the Balkan Championships and other international competitions.
Also, this could bring best trainers from Western Europe over to work with senior teams. By opening the circle of knowledge youth riders will also have their chance at obtaining more knowledge and exposure.
Surely, this will bring more international competitions and quality to Balkan. These CDIs would attract riders and trainers from more developed countries in future years. The advent of more experience trainers and riders is one of the most important channels to increase the much needed quality and knowledge and it will prompt organizers to prove better show grounds and infrastructure. Other than the Markopoulo Olympic center built for the Athens Olympics in 2004, there have been no CDI's in the area other than the Balkan Championships.
The FEI and EEF could appoint TDs, Judges and Stewards for all CDI's that are qualifiers for the Balkan Championships and the actual dates for the Balkan Championship should be determined a minimum of one (1) year ahead in order to ensure the desired quality and standard.
The Balkan region has 11 national federations that are members of the FEI. This respectful number of nations with their athletes surely deserve and seek for a sustainable development of equestrian sport and horsemanship.
We are sure that FEI's and EEF's support will encourage new Balkan dressage aficionados that could be the new force to break the magic ring of restricted knowledge and limited experience.
by Milan Djordjevic