2017 KWPN Foal Auction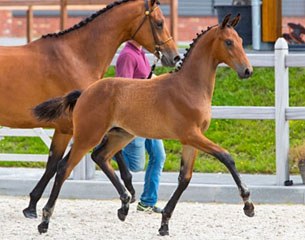 The jumper filly Mucinda (by Berlin x Heartbreaker) became the price highlight of the 2017 KWPN Foal Auction Lilburg held on Wednesday 27 September 2017.
Mucinda was acquired for 30,000 euro by Belgian Olympic show jumper Ludo Philippaerts and partnership with the Spronken family.
The second most expensive foal was the dressage bred Maxim N (by Toto Jr x Johnson), which sold for 23,000 euro.
The filly Miss Delin (by Ferdeaux x Wynton) switched owners for 22,000, just like jumper foal Montana (by Numero Uno). 
The jumper foals achieved an average price of 10,072 euro, the dressage foals averaged 7,250 euro.