German Dressage News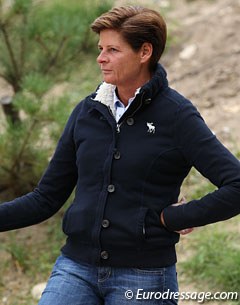 Olympic individual silver medal winner Ulla Salzgeber has decided to say goodbye to her competition career and she will be focusing solely on training students.
Dressursport Deutschland announced the news that the 59-year old is putting her shadbelly permanently in the closet.
Salzgeber was Germany's leading dressage rider in the late 1990s - early 2000s aboard the Latvian bred Rusty. She won double Olympic team gold, once Olympic individual silver and once individual bronze. She won the 2001 and 2002 World Cup Finals and competed at four European Championships (1997, 1999, 2001, 2003), where she scored four team gold and double individual gold. She won double team gold and double individual bronze at the 1998 and 2002 World Equestrian Games and. In 2003 Salzgeber's career suffered a blemish when Rusty tested positive to doping. In 2004 the German selectors picked her on the team nonetheless and the pair went on to win team gold and individual silver at the Olympics in Athens.
Rusty was retired from sport in 2005. With Herzruf's Erbe she always came close to a German team spot but never rode him in a Championship as the Rhinelander was often injured.
"When I look at my closet with the medals than I think back to a very exciting, fulfulling and beautiful time," said Salzgeber. "But now it's the time of the young ones and I prefer to be the one who guides them on their path to the highest level."
Salzgeber has been coaching numerous students in the past decade. At the 2017 European Championships in Gothenburg, she coached Austrian team rider Astrid Neumayer. Most recently, Salzgeber was in Uzbekistan for more training.
"I love training and am very passionate about it," she said. "And now I can be even more devoted and dedicated to my time with my students." Ulla will continue to train horses and might still show nationally, but the time for the big sport is over.
Source: Dressursport Deutschland - Photo © Astrid Appels
Related Links
Photo Report: Salzgeber and Sir Simon Capture First CDI Big Tour Trophies at 2016 CDI Mariakalnok
Photo Report: Salzgeber On Top at the 2011 CDI Donaueschingen
Federball, Ulla Salzgeber's Newest Acquisition
Ulla Salzgeber Acquires Roesseignieur
One Year Break for Salzgeber's Herzruf's Erbe
Salzgeber to Return to Australia as National Training Advisor
Ulla Salzgeber Cleared of Doping Charges!?
Time Out for Ulla Salzgeber
Ulla Salzgeber Prolongs World Cup Title at 2002 World Cup Finals
Ulla Salzgeber is the 2001 European Dressage Champion