2017 European Under 25 Championships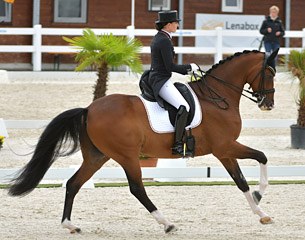 The freestyle final of the 2017 European Under 25 Championships in Lamprechtshausen, Austria, on Sunday 3 September 2017 has been cancelled due to technical difficulties following massive rain fall over the weekend. Technical problems to the musical installion resulted in the cancellation of the third and last leg of the Championships.
It rains buckets the entire weekend of the 2017 European Under 25 Championships. The majority of the riders had to ride in the pouring rain during the team championship test on Friday (Inter II). The individual Short Grand Prix class on Saturday had slightly better weather conditions, but even more rain in the afternoon and at night damaged the music system for the freestyle on Sunday.
The freestyle competition went fine until the fifth ride, Mathilde Hannell on Deela Mae, whose freestyle test got interrupted with failing music . Remarkably after a thirty minute debate between judges and the technical delegate - while the riders in the warm-up were waiting with no news what was happening  the officials decided to continue the Kur to Music without music. The chef d'equipes of the teams protested immediately and the class was cancelled.
The ground jury took the decision to cancell the final for the best 18 U25 dressage riders of this European Championships. The prize money of 5,000 euro will be paid out equally to all 18 qualified riders.
After this regrettable cancellation, organizer Josef Göllner invited all 18 riders to the international U25 dressage competition during the 2017 Amadeus Horse Indoors CDI Salzburg on 7 - 10 December 2017 and guaranteed the covering of the costs. In addition an attempt will be made to obtain a decision from the International Equestrian Federation (FEI) for the re-organization of this medal decision in Salzburg at this indoor event.
Photos © Rainer Dill
Related Links
Scores 2017 European Under 25 Championships

Eurodressage Coverage of the 2017 European U25 Championships