2017 CDI-W Sydney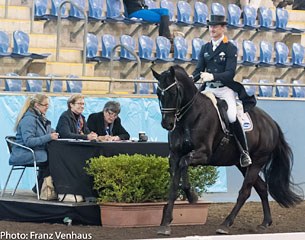 Brett Parbery landed on top of the board in the international Grand Prix at the 2017 CDI-W Sydney which is being staged at the Sydney International Equestrian Centre at Horsley Park on 31 August - 3 September 2017. Aboard Susan Duddy's black Weltmeyer gelding DP Weltmieser he dominated a group of 16 Grand Prix riders.
Parbery scored 68.80% in a typically super smooth test with only a moment in the second half of the trot zigzag where the horse cantered seemingly without reason. The piaffe throughout was very good and the one tempi changes so impressive. The little black horse had his game face on and really excelled in the 2nd half of the test. There was agreement from all the judges in having him first other than at C where Peter Holler from Germany. Later Peter Holler said he was "so sweet" in the test and very correct.
Weltmieser was Brett's first ride and in a field of 16 horses there were 4 combinations that rode two horses. To ride 2 horses at this level is an extraordinary achievement indeed and those 4 riders including Brett Parbery, Rozzie Ryan, 18-year-old Mary Warren and Rio Olympian Sue Hearn.
Second in the competition with the always elegant Judy Dierks riding Diamond Star owned by Vicki Newham. Peter Holler had the gelding down in the field today. The lovely chestnut had a few mistakes today along with highlights and ending up on a score of 68.740% less than half a percent behind Brett.
Western Australian rider Deon Stokes was very happy with 3rd place (68.420%) on his lovely black stallion Royal Oak II owned by Kate Barton. The test had great flow and was always forward. "He really stayed with me throughout so I'm stoked" Deon joked.
Rozzie Ryan was next on 66.90% on the very accurate Jive Magic gelding Jarrah R.  Her piaffe and passage transitions were super and Rozzie would also have been very happy with her other ride Adonie who is very new to the level and has such super impressive trot work. Such is the height in the trot work that she gets very over enthusiastic in the piaffe and this will take a little more time to get together.
Following three behind Rozzie was the beautifully combination in Robbie McKinnon and Razzamatazz. They cut such an elegant picture and the extended trot work floats and the passage is just so light over the ground.
Rio Olympian Sue Hearn on Remington was in 1st place with the German judge Peter Holler on 66.040% but in 6th place overall. The Riverdance gelding has super piaffe but like her other ride Jude was a bit spooky at the C end of the arena. Perhaps Jude and Remington have been chatting at the stables but maybe it was the splash of sunlight in the corner that really upset the Jive gelding. He's a huge impressive horse with a lot of power.
Brett Parbery and Heath Ryan shared 7th place on 66.00%. Brett was riding the huge over 18 hands Dutch Gelding owned by himself and Helen Batson PPH Zeppelin. Peter Holler explained he really liked the horse and said in the early stages of his career he shows great promise. Zeppelin shows – like Heath's mount Utopian Cardinal – real talent in the piaffe and fantastic canter pirourettes.
Just pipped out of the top 10 was the super impressive Mary Warren. Aged just 18-years-old Mary had two horses in the class – the lovely black Regardez Moi stallion Mindarah Park Ramadan and his son Mindarah Park Raphael.  This incredible young woman sits with such maturity and control on her horses and both seem so willing to work for her. The younger Raphael produced a lovely test just showing he was a little green on the centreline but his father produced some great piaffe and a super extended walk.
Sheridyn Ashwood riding Fererro Chocolate box has super passage and then the piaffe of Lesley Anne Taylor and Amicelli Gold truly excelled – on the spot and so expressive. Queenslander Tor Van den Berge rode his magnificent Londonderry Stallion Lauries As in a very kind test.
Overall a very impressive number of horses in this class showing there is a lot of newcomers to the level and so a developing future for our Grand Prix level.
by Zanna Northam, edited by Eurodressage - Photo © Venhaus
Related Link
Scores 2017 CDI-W Sydney