2017 CDI-W Stockholm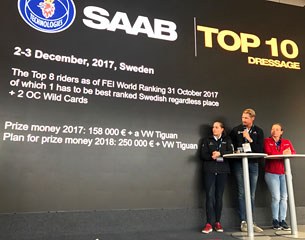 The "Saab Top 10 Dressage" is a new, exclusive competition for the best dressage riders in the world and it will be launched at Sweden International Horse Show in Stockholm the first week of December. The Saab Top 10 Dressage will be a new and exciting format for the sport of dressage that merges a spectacular purse of prize money with the prestige of including only the best riders in the world.
"We have talked about a Top 10 for dressage for many years and it's fantastic that it is now a reality," said Isabell Werth (GER), the number one on the world ranking list, at a press conference held on 24 August during the 2017 European Dressage Championships in Gothenburg.
Swedish top rider Patrik Kittel is part of the brain power behind the new concept.
"Our goal is to present the very best the sport has to offer. We want fierce competition amongst only the very best," Kittel stated.
The rules of play for the "Saab Top 10 Dressage" are made so that the best riders in the world are invited to enter in this competition: The Top 8 riders as of FEI World Ranking 31 October 2017 will be invited to Stockholm, of which 1 has to be best ranked Swedish regardless of his/her place , and two will be Wild Cards.
The inaugural edition of the Saab Top 10 Dressage can boast major prestige alongside a huge purse! There will be a prize pot of 158,000 euro and a Volkswagen Tiguan in 2017 and for 2018 the organizers aim to increase the prize money to 250,000 euro and a VW Tiguan.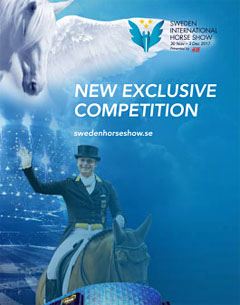 "Thanks to sponsor Saab we can now present big prize money to our sport; something we have lacked earlier," Patrik Kittel explained. 
The Friends Arena in Stockholm has a seating capacity of 18,000 spectators and close to 90,000 people are visiting the show over four days. This makes it the largest indoor equestrian show in the world.
"It is an amazing arena to compete in. The support and engagement of the big audience is unbelieveble," said Danish Cathrine Dufour, who won team silver and double individual bronze at the 2017 European Championships. 
For more information, visit www.swedenhorseshow.se