2017 European Dressage Championships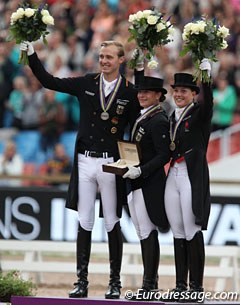 A rock steady Isabell Werth persevered at the 2017 European Dressage Championships in Gothenburg, Sweden, and won her third gold medal of the week, the freestyle gold, on Saturday afternoon 26 August 2017. Main challenger Sönke Rothenberger showed true grit in his attempt to unhinge Werth from her number one spot but stayed 0.3% short and got silver. Danish Cathrine Dufour confirmed her iron nerves and skill and clinched her second bronze.
The 2017 European Dressage Championships came to a conclusion with a battle of the titans, a duel between a master and two prodigies, two young millennials rapping at the door with exquisite riding and fantastic horses.
The Kur to Music finals are the traditional closing competition that draw out the big crowds as the combination of music and horses dancing seems to speak to a wider audience, despite the often astray kur judging. The freestyle system leaves too much room for interpretation and subjectivity. Furthermore, a large group of dressage fanatics have trouble digesting the Kur as many top level riders do not seem to value nor appreciate the significance of well produced music. Too often spectators get force-fed ridiculously bad and boring music, amateuristicly produced or arranged by so called musical professionals. Too often the music does not support the movements and gaits of the horse, but is just an annoying background humming or a beaten to death track (Pirates of the Caribbean!) copy-pasted on a home computer.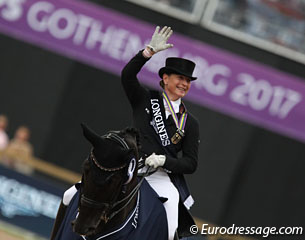 However, a breath of fresh air blew through the sport of dressage in Gothenburg. Generation Y came up with music expressing fun, playfulness; a youthfulness in its choice for funky, modern freestyles, which bring together sport and party. Today dressage became a celebration and was no longer a stiff upper lip affair with stuffy music or artificial computer-sound dominated tracks. Not all 15 freestyles had the same musical brilliance, but at least there were a few new Kurs that excited and thrilled the crowds! The tone was set by Anna Zibrandtsen with her contemporary, hip, fun and young music, followed by extraordinarily intriguing music from Sönke Rothenberger. Thank you!
Werth Shows Resilience Under Pressure
With a career spanning 28 years, German Isabell Werth has developed nerves of steel and is known for being a true, competitive beast. She can rise to any occasion under any pressure and she does so with tremendous resilience. Today she once again confirmed that she is the doyen of dressage.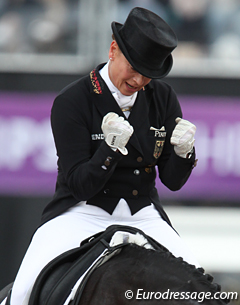 Aboard Christine Krog-Arnsman's 12-year old Oldenburg mare Weihegold (by Don Schufro x Sandro Hit) she enthused the judges and the crowds with her "Dance the Samba with Me" freestyle, which was designed for the 2016 Rio Games. The tunes are clever and the music is very romantic and atmosphere, bringing images of happy pensioners on a Caribbean cruiseliner to mind. The choreography is of a high degree of technical difficulty and Werth had her black mare sharp as a razor an ticking as a clock. The halt at entry was not immobile though and the first piaffe could have had more sit from behind (the rhythm is always exceptional). The passage was as always spectacular with its regularity, grace, elevation and airtime. The passage half pass to the left had the hindquarters trailing a bit. In the extended walk the mare could be marching even more and in the collected she was quite short, but clear in the rhythm. The tempi changes were all correct and uphill but in the ones the rider was swinging too much in the saddle. The final piaffe pirouette was fabulous and with a fault-free ride Werth was sure of a high score. However, this time she did not stick her finger up in the air, sure of her number one spot, but instead she balled her fists and showed her great fighter mentality. 
The judging panel, consisting of Francis Verbeek-van Rooy (NED), Hans Christian Mattiesen (DEN), Susie Hoevenaars (AUS), Annette Fransen Iacobaeus (SWE), Isobel Wessels (GBR), Evi Eisenhardt (GER), and Anne Gribbons (USA), rewarded Werth with a 90.982%. Five judges had her first, two had her second. Her individual scores ranged from 89.250 to 93.500%. 
"It was fantastic. It was a super afternoon, it was a competition we all love to see. We had top performances where everyone pushes each other," said a beaming Werth. "Weihe and I knew there was no mini mistake allowed. From the first step Weihe was there, awake, loose. I felt I could ask what I wanted to ask. It was brilliant with precision and I made no mistake. That was the difference at the end." Despite having won already 17 gold medals at European Championships, Werth still gets emotional on the podium. "I was full of adrenalin going in, so yes I get emotional," Werth replied to the question about her being tearful. 
Rothenberger and Cosmo, The Ones to Beat in 2018
The one thing that the 22-year old German Sönke Rothenberger and his 10-year old Dutch warmblood Cosmo (by Van Gogh x Landjonker) have proven this week in Sweden is that they will be the pair to beat in 2018! They should have been the winners in the Grand Prix Special yesterday and today a small mistake in the one tempi line cost them the gold again. But there was no doubt about it that Rothenberger and Cosmo were best of show. The quality of his show jumping bred Cosmo is truly exceptional and the horse eclipses all his rivals on that part.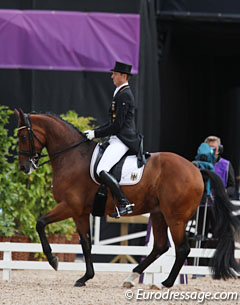 Riding his one-year old freestyle based on Audiomachine library music from a musicians' collective, Rothenberger intrigued the crowds with his very accurately ridden floorplan matching perfectly with the music. The piaffe-passage tour was supported by very quiet, demure piano tunes, followed by more explosive orchestral violins and blowers in the horse's spectacular extended trots. The canter work was executed to eery, almost creepy tunes which made you hold your breath as the hairs at the back of your neck stood up. It was a fantastic sensation to see such an amazing horse move to such well synchronized music! This is what the Kur to Music is all about. 
Cosmo showed regular and steady piaffe-passage work, nice trot half passes, a very rhythmical piaffe pirouette and energetic extended walk. The collected walk stayed clear in the rhythm. The two tempi's were big, and so were the one's but at the end of the line there was a mistake. Rothenberger wrapped up with a line of two tempi changes going into ones. The final transition from canter to trot was hesitant. 
The judges rewarded the test with 90.614% with marks ranging from 90.050% to 92.000%. 
"You can't see it from far away, but this is a silver medal with a golden edge," gushed Rothenberger. "I always want to go into the test to show what we practice outside. Today he gave me back exactly what I was asking for. He is a character horse, that is what gives him his shiny edge." When asked about his special music, Rothenberger told Eurodressage, "it was made for Balve (German Championships) last year. I was keen on making something special. We sat together with several composers and went for Cees Slings (Anky van Grunsven's freestyle designer). It's a very emotional kur, very light, for my lightfooted horse."
Dufour and Cassidy Maintain Form
Danish duo Cathrine Dufour and her 14-year old Atterupgaards Cassidy (by Caprimond x Donnerhall) were the hot favourites for bronze after already winning team silver and Grand Prix Special bronze, and they fulfilled the job. All judges placed the pair third with an overall score of 84.561%. Her marks ranged between 82.615 and 87.250%!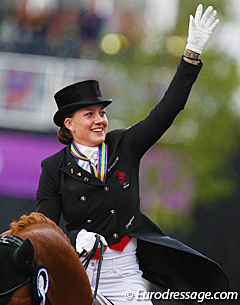 Dufour rode to a filmic musical composition, but her floorplan was too disruptive with too many fragmented bits of movements, staccato one after the other, instead of one smooth flowing line. Nevertheless her chestnut fire cracker was on the aids and willing to carry his rider to bronze. The pair started with a double pirouette, two tempi changes, another double pirouette, one tempi changes and then another double pirouette. The tempi changes were all correct and quite straight. The trot extension was very nice and Cassidy did a good piaffe at C. In the second piaffe he back-stepped a bit and in the third there could have been more sit. In passage the gelding is very active and off the ground but has a tendency to sway much with his fore and hindquarters. The trot half pass to the right was superb. In extended walk the horse did not have the maximum of overstep but showed good relaxation. Cassidy dropped a bit in the poll in the canter half passes. Dufour's floorplan certainly has a high degree of difficulty and she finished with a piaffe fan. 
"I didn't expect to be here," said a proud Dufour at the press conference after having won double bronze. "I had hoped for a top five. Cassidy did everything he could. I knew I had to be the number one leaving the arena as these two (Sönke and Isabell) were still coming." Dufour took Cassidy from junior-young riders level, through Under 25, up to senior Grand Prix level and continues to be amazed of how her horse develops. "Since Aachen I got more quality, more control. He really does a lot himself. Now I will go home, train over the winter and see what happens."
Second Fourth Place Finish for Carl Hester at European Championships
Great Britain's much beloved trainer Carl Hester, who is famed for his great horsemanship and beautiful, harmonious riding style, placed fourth with the freestyle, which has not gone by with much controversy. His horse Nip Tuck, a 13-year old Dutch warmblood gelding by Don Ruto x Animo which is owned by Jane de la Mare, has not been at the top of his game in Gothenburg, but has been rewarded with scores as if the judges did not notice any difference.  In the freestyle, however, Hester had his horse in the best form of the week and as the freestyle allows for the rider to create a floorplan that highlights a horse's strengths, Nip Tuck's problem points (the trot work) were kept to an absolute minimum.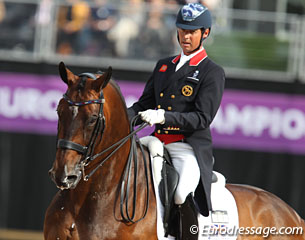 Carl rides to very dramatic music, arranged by Tom Hunt, which befits his tall, imposing horse. Hester began with a nice piaffe pirouette followed by a well ridden zig zag, but the horse spooked at the exit. The one tempi changes on the centerline were dead straight, but in the first piaffe the horse lost the forward tendency. The extended walk did not have enough overtrack as Nip Tuck got distracted and looked at the warm up through the gateway, the collected was a bit tense. Hester rode a difficult zig zag in trot, but again struggled to ride a smooth exit, almost going in the wrong direction. The final extended trot was the best shown the entire week when it comes to regularity. 
The judges were euphoric and rewarded the ride with 80.614%. Their marks ranged from 78.500% to 82.750%.
"I'm pleased but he was a little more difficult than I expected today," Hester told British Dressage. "I gave him an easy morning to make sure he wasn't too tired but he was very excited! His scores have gone up all week and that's very satisfying. We never thought he'd get this far but it's testament to his temperament, he's a worker. He finds it easy to do the difficult stuff so time to work on a new freestyle, I know I can make it even harder!"
Therese Nilshagen Lands Fifth Place at First Europeans
Riding her first European Championship in her second year at Grand Prix on her first Grand Prix horse ever, Swedish Therese Nilshagen had a dream week. Aboard Dressage Performance Centre's 10-year old Oldenburg stallion Dante Weltino (by Danone I x Welt Hit II) she won team bronze and were fourth in the Grand Prix Special, coming very close to Dufour's bronze medal winning score. On this sympathetic black stallion Nilshagen has it all to be a medal getter in the future. It was interesting to see if the situation would mature early today in Gothenburg, but it did not. The unappealing music and simple choreography (for this young Grand Prix horse) prevented a rocket-rise to more medal glory on home turf.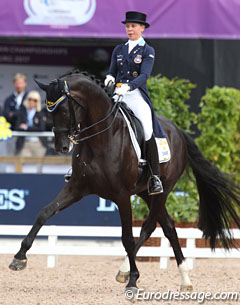 Nilshagen's musical choice for Annie Lennox (and the Eurythmics) sounded incredibly promising at the start. Lennox' music captures hearts still today, but as the violins kept wailing for six minutes throughout the test, many ears had enough.  Dante Weltino was not entirely immobile in the halt at entry, but he showed very scopey half passes, that were not always entirely regular. The extended walk had good relaxation and overtrack. The double pirouette left was a bit big and there was a loss of balance. The canter half passes were lovely, but Dante dropped a bit in the poll. In the final extended trot the horse's legs were flying with so much exuberance. The floorplan was very simplistic and when Nilshagen added some technical difficulty to it by riding tempi changes on a curved line, her young super star got deep. The talented pair, which certainly will be a power force to be reckoned with in 2018,  finished her ride with some passage half passes.
Christmas came early for Nilshagen when 80.411% flashed on the board. She finished in fifth place and was one of five riders scoring above 80% at the 2017 European Championships. 
Swedish judge Annette Fransen-Iacobaeus was president of the ground jury and judge at C for the freestyle. She said that the Gothenburg Kur to Music was "an amazing class. Everyone on our team was thrilled and delighted. They gave us goose bumps."
Text and Photos by Astrid Appels - No reproduction allowed
Eurodressage is on the scene taking photos of all riders. Contact us if you are interested in prints or digital files for social media
Related Link
Eurodressage Coverage of the 2017 European Dressage Championships