Opinions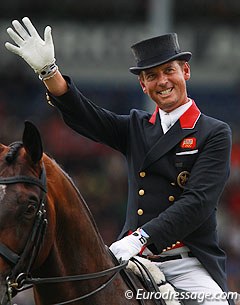 In his most recent column in British equestrian magazine Horse & Hound, British Olympian Carl Hester expressed his doubts about the newly proposed Code of Points which he believes would turn competitive dressage sport into "judging by numbers."
The Dressage Judging Working Group and IDRC are assisting the FEI Dressage Committee in finding solutions to innovate and improve the judging system. One of the means, heavily advocated by IDRC secretary-general Wayne Channon, is a code of points in which each judge starts at a 10 and will subtract points for issues in the execution of the movement. 
Hester was brought up to speed of this proposal by judge Katrina Wüst, who addressed a group of riders at the 2017 World Cup Finals in Omaha. "We all agreed that it was very worrying," Hester said of this proposal. At the time the riders sent a signed letter to the IDRC to request a better communication and representation.
"I have nothing against a code of points as guidance for judges. There has always been much hard work towards producing guidelines and a code of points to give clear advice on the more difficult parts of judging. the starting set of guidelines was agreed in January by a group of five-star judges," Hester said in his H&H column. "But what is under discussion now is a system based on the idea of starting with a mark of 10 and deducting points accroding to a strict formula. How can you strart from 10 for a horse that is not capable of earning a 10?"
Hester correctly lists the FEI Handbook (Guidelines for Judging) as an important effort for the improvement of the judging system (editor's note: If only judges would actually score according to those guideliness in which harmony, lightness and suppleness are the beacons of the discipline, dressage sport would not be so much under fire.)
Hester is anxious about that the code of point system might lead to "clockwork mouse type of tests with suppleness, elasticity and expression secondary , or even out of the window altogether."
Hester questions the respresentability of the IDRC, the International Dressage Riders Club. "This is a body that is supposed to represent the riders, but how many of are actively involved," he wonders. "If you don't like what you are reading here, then for goodness sake join, and make your opinions known."
Hester admits that he "has only seen a small example of Wayne's code and I found it very difficult to understand. It hasn't been tried or tested, yet at the FEI Sports Forum in March the FEI put forward an "ideal timeine" leading up to implementation and testing next year, and introduction in 2019."
Carl believes this time line is unrealistic. "I have no objection to development of our sport, but to me that means education and not the introduction of radical, unproven analytics and apps."
Carl pleads with the FEI to maintain and developing a judging system that celebrated the essence of dressage - harmony, lightness, beauty. "So please FEI, think #twohearts, not satisfying the aims of a small minority trying to quantify the unquantifiable. Our sport - including horses, riders, judges, officials and spectators - is worth more than that. It's that or Drexit."
Read Hester's full column in Horse & Hound here.
Related Links
Hans-Christian Matthiesen: "The Perception of Dressage Judging - No To Drexit"
Wayne Channon: "Who Moved My Cheese?"
Omaha Riders Request More Info from Dressage Judging Working Group and Better Rider Representation
FEI Rider Representative Anna Paprocka-Campanella Responds to Omaha Riders' Letter
IDTC, IDOC and Judge General React to Judges Working Group Findings Ahead of 2017 FEI Sports Forum
Can a Code of Points Improve the Judging System?