2017 British Young Pony Championships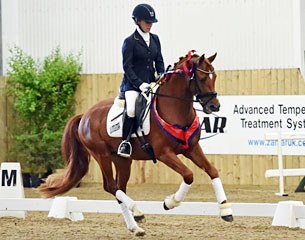 The 4-year old Chartsturmer WE, the 5-year old Woodlander Sir Gorgeous, and the 6-year old George Clooney BS became the grand winners of the 2017 British Young Pony Championships held at Hartpury Festival of Dressage CDI in Hartpurt, Great Britain, on 7 - 9 July 2018.
Four 4-year olds contested the British Young Pony Finals and Jennifer Manning took home the title aboard her own Weser Ems bred premium licensed pony stallion Chartstürmer WE (by Caramel FH out of SPS Greatest Hit (by FS Golden Highlight). The pair scored 7.72 points for the victory. Abigail Edwards and the British bred Welch section C pony Penbee Savannah (by Dabernon Replica x Felinmor Ringmaster), bred by Kim Curtis, were the reserve champions with 7.0.
"He showed himself well for the future, but I think he has so much more to come as he gets stronger. The nerves crept in a little bit, so he didn't show his true potential especially in the trot, but not sure that was all his fault. I think I was to blame a little bit there! But he is proving very ridable in the ring I was able to ride an accurate test with no blips, which for his age I was very pleased about. He has the most amazing genuine attitude and temperament. He is an incredibly talented stallion that we feel very privileged to own," said Manning who bought Chartsturmer as a weanling directly from him breeder Simone Visser in Germany. "He has competed at seven shows so far and has won each one. Our plans with him are to continue training him for the future I will carry on competing him as well as him standing at stud. He already has some very exciting foals on the ground this year!"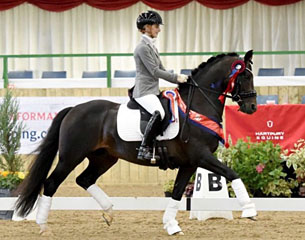 The largest group of ponies could be found in the 5-year old division with eight finalists. Charlotte Drakeley topped the board on Claire Wyatt's British bred Woodlander Sir Gorgeous (by Woodlander Santana x Synod Rum Punch). The pair scored a winning mark of 8.4 which gave them the 5-year old title. It was also the highest score of the day of all ponies in all divisions. Coached by Henri Boswell, Drakeley was originally based in Abu Dhabi but moved back to the U.K; to start her own riding business. She has been training Sir Gorgeous for the past two years. Former British FEI pony rider Hariette Williams grabbed the reserve champion's title on Kelly Mewes' Sheepcote PFS Gold Crest, a British bred gelding by Sheepcote Suncrest x Samay Valentine. Bred by Serena Pincus, this Welsh pony scored 7.9.
"Woodlander Sir Gorgeous came out at Hartpury like a true professional," the 23-year old Drakeley told Eurodressage. "At only five years old, I can trust him 100% to not worry about the flowers, boards or judges and he lets me guide his confidence (not that he needs it) and also give him some stability to hold his expression and cadence in the trot through my lower leg while he gains his strength to take that on a bit more himself naturally. Through the test, Sir Gorgeous stayed wonderfully solid and focused. He has only been back a few weeks from standing at Stud for the first time, and I could not be more proud of how this young stallion is taking everything that comes his way, so very well."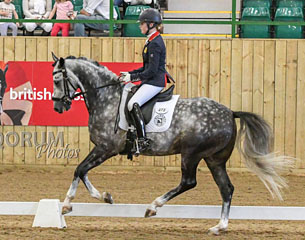 The 14-year old British FEI Pony team member Sophie Taylor and the grey British bred Dutch cross sport pony George Clooney BS (by Caesar 171 x Santano) aced the 6-year old division with a 7.94 point score. They edged out Lily Laughton on the Holstein bred gelding Armada Magic Cadillac (by FS Chamberlin x Nurejew) by a fraction of a point. Laughton became the reserve champio with 7.90 points. 
"I honestly couldn't be happier with George winning the 6-yearr old Pony Championship," said Taylor. "He has been a star from start to finish taking the show atmosphere and competing all in his stride. A big thank you everyone that has helped get him this far over the last two years; Julie Lockey, who bred him, and the Godrics Stud who own his mega daddy Caesar 171. He was a very good boy and took it all in his stride. It was a big atmosphere for him but he was so rideable. In my heart I always hoped he would do well and delighted he won his class." Taylor added that she is "excited for next year with George as 2018 will be my last year on ponies. I have owned him for the last 2yrs and with lots of help from my trainer Hannah Moody I have enjoyed the experience of a youngster."
Results - 2017 British Young Pony Championships - Hartpury
4-year olds
1. Jennifer Manning - Chartstürmer WE -  7.72
2. Abigail Edwards - Penbeee Savannah -  7.00
3. Donna Lockhart - VSH Don Diego - .92
Christine Bjerkan - BS Mr President- RET
Victoria Lovell - Barnaby Victoria Lovell - DNS
5-year olds
1. Charlotte Drakeley - Woodlander Sir Gorgeous- 8.40
2. Harriette Williams - Sheepcote PFS Gold Crest -  7.90
3. Fiona Spencer - Cyheidrefawr Gerwyn -  7.50
4. Carrie Passmore-  Star Gazer -  7.50
5. Eleanor Jane Cooper - R S Starsky -  7.36
6. Colina Pickles - Tangaluna - / 7.22
7. Vanessa haunch - Bunbury Peppermill - 7.22
8. Annie Lloyd-Aylett - De Votion -  7.16
6-year olds
1. Sophie Taylor - George Clooney B.S. -  7.94
2. Lily Laughton - Armada Magic Cadillac - 7.90
3. Molly Whitham - DZL Royal Sunrise -  7.70
4. Anna Dalrymple - Keystone Spider - 7.20
5. Alice Hurley - BKS Cleopatra - 7.16
Related Links
Godrics Stud Firmly on the Map with British Longlist for European Pony Championships Announced