2017 CDI Bolesworth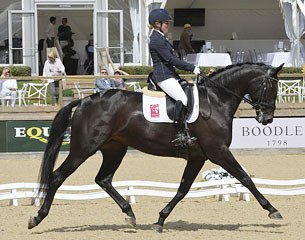 The international dressage competition 2017 CDI Bolesworth welcomed several national classes on Thursday 15 June 2017, amongst them an invitational small tour as well as an important British selection trial for the 2017 World Championships for Young Dressage Horses in Ermelo in August. The 5-year old MSJ Zonetta, the 6-year old Saint Julian and the 7-year old Florentina became the winners of the selection trial.
Carl Hester's former stable jockey Amy Woodhead won the 5-year old division on Emma Blundell's MSJ Zonetta (by Zonik x Riccione) with an 80.000 point score. The pair edged out Australian Jayden Brown, who recently took up a job as stable jockey at Mount St. John brood farm. Brown and MSJ Fascinate (by Furstenball x Dacaprio) ranked second with 75.200 points, followed by Becky Moody on the 18 hh standing Dutch bred Heavenly Kiss (by ) with 75.000 points. 
Amy Woodhead started riding a few horses at Mount St John when she headed home up north to help out and she found this mare 'interesting'. "Emma didn't have big plans for her but I immediately could feel how trainable she was. She was then happy for me to take her out to a competition and it's gone from there. The more times I ride her, the more I like her and she was amazing today, she really let me ride her in there."
In the 6-year old division, the honours went to Emile Faurie's stable jockey Tom Goode with Ulla Smirnova's Hanoverian bred Saint Julian (by Sandro Hit x Donnerhall) who judges Paul Hayler and David Trott awarded 82.2%. Jayden Brown again captured a second place, this time on Blundell's MSJ Top Secret (by Totilas x Dacaprio) with 81.100 points. Tom Heappey and the British bred Oldenburg Tantoni Dallaglio (by Danone II x Rubin Royal) were third with 78.000 points.
Tom Goode was thrilled with Saint Julian's performance. The gelding sounds like it's a case of 'saint by name, saint by nature'; "He's such a gentleman. So lovely to ride and he looks the part, an amazing temperament and easy to do," said Tom. He was pleased with today's test; "He was really relaxed and gave me a great feeling," he explained. 
Only three combinations competed in the 7-year old division. Young horse 7-year old classes are still a rare thing in Britain but a scan of the BD database gave a few names scoring well at Advanced Medium who were invited to compete in this class. The grey Dutch warmblood mare Florentina (by Vivaldi x Rubels), ridden by Charlotte Dujardin and owned by Mr and Mrs Dockley in partnership with Dujardin, won the class with 79.97% although she was clearly unnerved by the wind. Leah Beckett and the British bred Hanoverian Woodcroft San Leonardo (by San Amour x Lanciano) were the runners-up with 69.228%, followed by Beth Bainbridge on the Dutch bred gelding Flairck (by Andretti x Rosentau) with 67.318%.
Charlotte said; "The wind really affected me in there – I didn't feel properly balanced it was so strong. But she was great; I've not ridden this test on her before but she's done a few Advanced Mediums for experience so it was good to ride something different."
British selectors have yet to name the horses that have been nominated for the 2017 World Championships in Ermelo. The qualification criteria for the World Championships is scores of 8 and above in an FEI Preliminary or Finals test. The results from the competitions held in the UK will be monitored by the selectors. If the combination is based abroad, YouTube/DVD evidence will be sufficient.
Results - 2017 British WCYH Selection Trial - Bolesworth
5-year olds
1. Amy Woodhead - MSJ Zonetta - 80.000
2. Jayden Brown - MSJ Fascinate - 75.200
3. Becky Moody -  Heavenly Kiss  - 75.000
4. Michael Eilberg -  Watusi - 74.800
5. Darren Hicks - Hennessey T -  74.000
6. Emma Woolley -  Henriette - 72.400
6. Beth Bainbridge - Habouche - 72.400
8. Leah Beckett - Woodcroft -  67.200
6-year olds
1. Tom Goode - Saint Julian - 82.200
2. Jayden Brown - MSJ Top Secret - 81.100
3. Tom Heappey - Tantoni Dallaglio- 78.000
4. Abigail Hutton - Suspension Giraldo - 77.600
5. Sadie Smith - Gio -  76.500
6. Amy Woodhead - MSJ Fustin Fugger - 71.600
Nicola Buchanan -  St Giles Fairytale - DNS
Emma Woolley - Solomon S - DNS
Anders Dahl - Daytona Platiunum - DNS
7-year olds
1.  Charlotte Dujardin - Florentina - 79.979
2. Leah Beckett - Woodcroft San Leonardo - 69.228
3. Beth Bainbridge - Flairck - 67.318
Amy Woodhead - MSJ Bestof All - DNS
Related Link
Eurodressage Coverage of the 2017 World Young Horse Championships