French Dressage News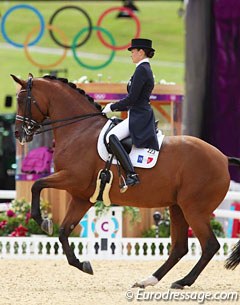 French Olympic dressage rider Jessica Michel-Botton will be expanding her business at the state-of-the art equestrian centre Haras de Hus by opening up the dressage barn to new clients who wish to put their horses in training with Jessica.
Owners of competitive dressage horses can now take advantage of having their horse in professional training with a proven Olympic dressage rider. The horses will be boarding with Jessica at Haras de Hus, which offers facilities of the highest standards, unparallelled in France.
The number of places for training and boarding is limited as Jessica wants to be fully committed to her own standards and training philosophy, giving each horse 100% of her attention, patience, and time with the welfare of the horse as priority. 
"I'm ecstatic that Mr Marie has allowed me to take in a select number of extra clients at Haras de Hus, which has been closed to clients and remained totally private for the past 8 years," said Jessica.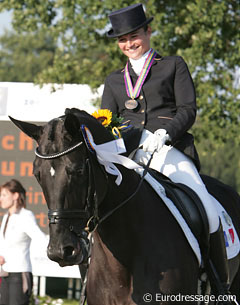 Jessica's last client's horse was the Dallara family's Noble Dream which she took to the 2007 World Young Horse Championships in Verden, to win bronze; the best French achievement ever at these Championships to date. Noble Dream was also French Young Horse Champion as a 4 and 5-year old and a finalists at the World Young Horse Championships as a 6-year old. Noble Dream had been trained by Jessica since she was a 4-year old until the mare was 7. She went on to be a member of the French Grand Prix dressage team at the 2013 European Championships and 2014 World Equestrian Games under Marc Boblet. 
Jessica Michel-Botton offers a very unique experience in France. 
18 times French Champion
28 podium places at the French Championships
Sole French representative at the 2012 Olympic Games in London (with qualification for the GP Special)
Participant at the 2013 European Championships in Herning (qualified for the GP Special, best French team performer)
Participant at the 2014 World Equestrian Games
9 times participant at the World Young Horse Championships, 5 times finalist, 1 time bronze
Multiple victories at international Grand Prix level up to 4* level
More details at www.jessicamichel.com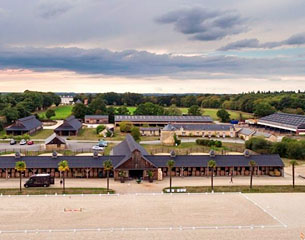 Jessica prides herself in a well founded training philisophy with the welfare of the horse and classical dressage as standards. She firmly believes in confidence, mutual respect, wellbeing, and diversity in work. She wants to found a very solid basis with each horse, one in which stretching, balance, cadence, regularity and elasticity are essential. 
Michel-Botton has been training regularly with renowned German coach Hans Heinrich Meyer zu Strohen for the past 10 years and he comes to Haras de Hus for two days each month to train Jessica and her horses. Jessica also attends the national training seminars with French team trainer Jan Bemelmans. 
Haras de Hus is located in Le Petit Mars, France, on a magnificent property. With 130 hecators of land and the best facilities for the wellbeing and sport career of the equine athlete, Haras de Hus expresses its love for horses. 
Horse owners interested in putting a horse in training with Jessica at Haras de Hus can contact her for exta information at: