Saddlery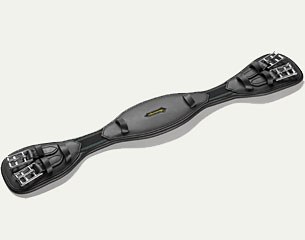 Girths are an important, key technical accessory when looking for precision fit and good performance. A well designed and manufactured girth can be a real solution to issues caused by ill fitting choices. Amerigo is proud to announce that it has enriched its range of performance accessories with the new GH27 Dressage Elastic Girth.
Behind every Amerigo saddle and accessory concept is a scientific approach based on many years of experience aiming not only to improve the sport performance but helping to keep the horse healthier too.
The new Amerigo Dressage Elastic girth GH27 is specially shaped to distribute the pressure from the girth over a wider surface area and is not concentrated in one narrow area that can lead to soreness when the horses are overgirthed. These girths are particularly useful when the horses girth depth is very close to the elbow. The soft elastic and calfskin on the sides of the girth offer no resistance or sharp edges that hinder the movement.
The GH27 girth also stands out for its generous shaping around the elbow, carefully designed to ensure that the sensitive elbow does not connect with the girth and that the girth remains quietly in place, stablising the saddle by allowing this girth to connect correctly in a straight line from the girth depth to the girth straps.
The girth is available in black and brown colours and lengths from 55cm to 80cm.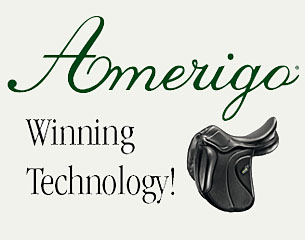 The Amerigo brand is today a household name in the equestrian world whose products, saddles and accessories, are enjoyed by a wide spectrum of riders from all disciplines, from top International riders through to dedicated amature riders of all levels, who appreciate the comfort, precision fitting and the improved performances of their horses, while also caring for their health. Important names of the top international riders such as Michael Eilberg, Edwina Tops-Alexander, Daniel Deusser and Steve Guerdat, are among those riders who have chosen Amerigo to help them achieve their high level goals.
For further information, visit Amerigo Saddles at www.amerigo-saddles.com or email info@amerigo-saddles.com