2017 CDI-YH Moscow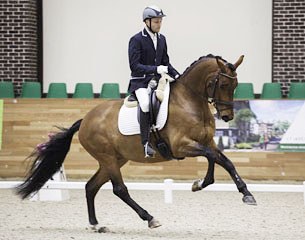 At the international young horse competition hosted at Nikolaj Aristov's Maxima Park in Moscow, Russia on 7 - 9 April 2017, Russian Evgeny Sharangovisch struck gold with his three horses, winning five out of six classes. Saddling Hummer, Goldfinch and Florence, Evgeny proved to be well on the road to the 2017 World Young Horse Championships in Ermelo this summer.
At the 2017 CDI-YH Moscow, Sharangovisch won the 5-year old division on the Dutch warmblood stallion Hummer (by Westpoint x ), scoring 77.70% in the preliminary test and 81.200% in the Finals test. Evgeny got the ride on the dark bay stallion one year ago. With the 6-year old Dutch warmblood Goldfinch (by Jazz x Lingh), which he has been riding for two years now, he was second in the preliminary test (79.00%) and first in the Finals test (81.600%). As sole competior in the 7-year old division Evgeny had an easy victory on Florence (by ) with 75.112 in the preliminary test and 77.410 in the finals test. Florence has been in his training for the past three years
"On the first day the horses were a little tense because of new surroundings," Sharangovisch told Eurodressage. 'They also lacked a bit of impulsion because of the long warm-up, which was reflected in the comments and marks of the judges. On the second day, the horses were already more relaxed which contributed to their flexibility. W reduced the warm-up time, which left them with more energy for the test. So the second day we managed to significantly improve the result."
Although the 29-year old Sharangovisch did not expect to win he was very pleased with his thrilling weekend. "As any sportsman I hoped to win, but my main desire was to show a good test and get good marks," he admitted.
When asked if Evgeny has a favourite amongst the three, he replied that "these are wonderful horses. First of all they're my friends. Hummer is particularly exceptional because of his character, and that was noticed by Kirsten Brouwer, who represented Hummer at the KWPN Stallion competition in The Netherlands this year."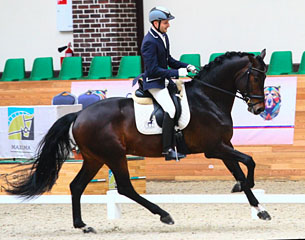 Evgeny did not feel that his horses have any weakness. "My main task is to get rid of my own shortcomings, which prevent me from unlocking their potential even more," he said solemnly. "I will continue to work on myself, to perform better with these amazing horses."
Evgeny's horse trio is owned by Nataliya Bronnikova's Kartsevo Stud in Moscow. Evgeny is trained by his mother Tatiana Dorofeeva, but he regularly gets help from Dutch Laurens van Lieren as well, who travels to Russia on a regular basis. "Laurens helps us to prepare the horses and regularly comes at Kartsevo," Evgeny explained. "Last year, I went to Holland and worked with his horses."
Evgeny has set the 2017 World Young Horse Championships in Ermelo, The Netherlands in August as clear goal for his youngsters.
"We will continue to prepare the horses in accordance to the training scale and take their age into account," he said. "The results indicate that we are on the right track."
Photos © Maxima Park
Related Links
Scores 2017 CDI-YH Moscow
Jameson, Champion of the 2017 KWPN Stallion Licensing
Scores: 2014 World Championships for Young Dressage Horses