2017 CDI Nieuw en St. Joosland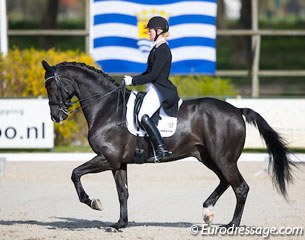 Swedish Malin Nilsson powered to a big time Grand Prix victory on her international show debut at the 2017 CDI Nieuw en St. Joosland in The Netherlands on 7 - 9 April 2017. Aboard the Dutch warmblood gelding Bon Ami, Nilsson scored whopping marks and won the Grand Prix and Special. Not too shabby for a CDI first-timer!
The 28-year old Nilsson brought the 11-year old KWPN bred Bon-Ami (by Johnson x Fidermark) to Nieuw en St. Joosland where she faced a field of no less than 40 Grand Prix riders and topped the board in the Grand Prix with 73.360% and the Grand Prix Special with 72.078%, twice edging out German Charlott Maria Schurmann on Burlington FRH. 
Owned by Philippa Ral's Frösaker Gard, Malin has only been riding Bon-Ami since October 2016. As an assistant trainer at Patrik Kittel's yard in Appelhulsen, Germany, for the past seven years, Malin has plenty of show experience in Germany competing Patrik's sales horses, but has never been out to a CDI, let alone compete at international big tour level.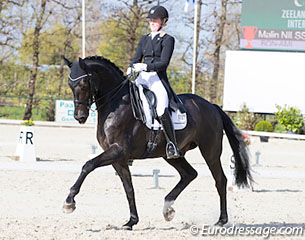 "I was super happy with him. He is a great competition horse that tries his best in the ring," Nilsson told Eurodressage after her double win in Holland. "I was very happy with both tests. We have still a lot of things that we can improve and work on so that feels super exciting. The GP Special was also my first time riding it and I have to say it was a long test but we had a lot of fun!"
Nilsson admitted that she was shocked to be first twice and couldn't have hoped for a better debut.
"I absolutely did not expect to win," she gasped. "I had no expectations at all, because either me or the horse has done anything like this before. I now it's a super horse and that he can get good scores but it all has to come together and work in those 5 min we are in the ring. I still don't think that I know what happend, everything has just been so great the whole week"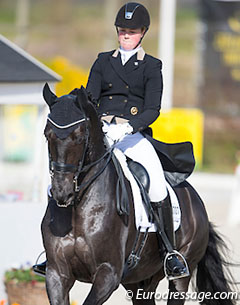 Nilsson currently has three horses in training but as she works for a sales barn, everything is unsure. 
"We haven't really done any plans yet, we wanted to do this one and then we will see what happens after this one. Yes he is for sale so we will see how long he will stay," she confessed.
Her two other horses - Foreign Affair and Forlan - will do some national shows in Germany and Sweden. With the 7-year old Foreign Affair (by Rock Forever x Scandic) she will compete in the Nurnberger Burgpokal qualifier in Hagen. With the other 7-year old is Forlan (by Jazz x Highline) she hopes to ride at the Falsterbo Horse Show in Sweden this summer. 
Photos © Digishots
Related Links
Scores 2017 CDI Nieuw en St. Joosland
Schneider and Faustus Bag First Victory on Show Debut at 2017 CDN Ankum 
Guadeloupe Beau and Fenix Win 2015 Pavo Cup Finals