2017 CDI Keysoe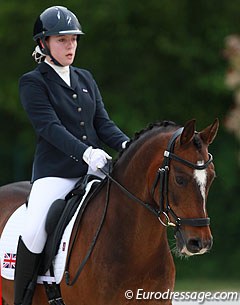 British Megan Barratt and Valido's Starlight shone brightly in the pony division capturing first place in all three tests at the 2017 CDI Keysoe in Great Britain on 17 - 19 March 2017. After one year competing internationally, Barratt has kicked off 2017 with a bang and positioned her strongly for team selection.
Barratt and her pony won the team championship test with 71.11%, the individual test with 71.54% and the kur to music with 73.00%. Her biggest competition came from countrymates Maddy Whelan on Ode to Shannon, Sophie Williams on the routinier Ferrari and newcomer Charlotte McDowall on Le Chiffre.
"Star was really relaxed and had a lot of forward energy especially on the first day," Barratt told Eurodressage about her weekend at Keysoe.
The 13-year old Rhinelander sport pony Valido's Starlight (by Valido x Capri Moon) made his international FEI level pony debut in 2013 under Rebecca Bell. The pair were together for three years and in 2016 Barratt took over and made her show debut on the bay. They have already contested the CDI's in Keysoe, Compiegne, Hagen and Diepenbeek with mixed results to gain mileage and exposure.
However, this year the duo is switching to a new gear with three trophies achieved at their first CDI of 2017. 
"Over the past year star and I have really got to know each other and find out what works for both of us and have recently been able to get more power in our tests," said Barratt.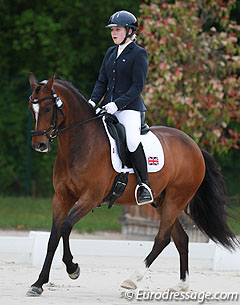 The 15-year old Megan trains with Paula Cooke and Henry Boswell. She hopes to make her penultimate year at pony level count, mainly by focusing on getting more consistency in her performances and experience in the arena. This goal 
"I plan to go abroad and compete as much as possible and have a good time and see what we can do," she said.  "We would love to get some more experience at international shows and hopefully we will have the opportunity to do that this summer. Really I just want to keep improving our way of going and therefore our scores."
Barratt is careful at pinpointing the 2017 European Pony Championships as her clear goal for the season.
"We are definitely planning on going to as many premier league shows as we can - Addington is probably next on our list," Barratt stated. "Of course the European championships are every pony rider's goal but we are just focusing on where we are now, working hard on improving and gaining more experience and hopefully consistent scores."
Photos © Astrid Appels 
Related Links
Scores 2017 CDI Keysoe
Eurodressage Photo Database: Valido's Starlight 
Valido's Sunshine and Valido's Starlight Stay in the U.K.
Kirby, Whelan, Smith Stand Out at the 2017 CDN Addington