Dutch Dressage News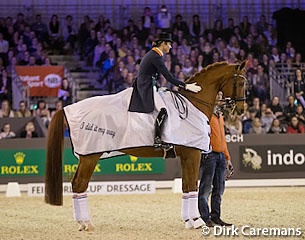 Adelinde Cornelissen's Parzival has been officially retired from sport in a ceremony held during the break in the freestyle class held at the 2017 CDI-W 's Hertogenbosch on Saturday 11 March 2017.
The retirement ceremony was set up quite differently from the standard format used before for highly acclaimed dressage horses. No freestyle was ridden, but instead a video of the career highlights was shown before Cornelissen entered the arena on top of her 20-year old Dutch warmblood in walk. 
Cornelissen trained Parzival from novice level to Grand Prix. Their time together so far spans 15 years. Coach Johan Hamminga was the trainer who guided them to Grand Prix level until 2008. Then team trainer Sjef Janssen took over and the pair's most significant career successes were achieved under his tutelage. In 2015 Janssen and Cornelissen ended their collaboration and Adelinde briefly returned to Hamminga but that didn't last very long. She then went independent and had her boyfriend Aris van Manen as eyes on the ground the year of their last shows, 2016.
Adelinde said that individual silver at the 2012 Olympic Games in London was the biggest career highlight. The pair also won individual gold at the 2009 and 2011 European Championships, double bronze at the 2013 Euros, and kur bronze at the 2014 World Equestrian Games alongside numerous team medals.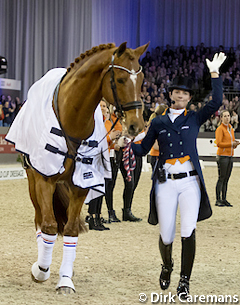 Adelinde's address was done in Dutch, but one sentence was in English: "team work makes dream work. Thanks Parzi for being there every step of the way."
Adelinde said that the physio, the farrier, the vet, the dentists, and all grooms were essential in Parzival's path to success, but she thanked in particular breeder Ria Beijer, her parents (mom was the groom and dad the camera man) and Mr Jerich who bought a half share in the ownership of Parzival in 2009 and secured the horse for Adelinde. Adelinde thanked the Austrian entrepreneur in German. 
While Frank Sinatra's "I Did it My Way' was played, Cornelissen dismounted and gave special presentd to some of the most important people who have helped her in her career. She then walked her horse out of the arena in hand, while the audience gave them a standing ovation.
Parzival wore a cooler with the motto "I Dd it My Way" printed on.
Photos © Dirk Caremans
Related Links
Retirement Ceremony for Parzival Scheduled at 2017 CDI-W 's Hertogenbosch
Cornelissen Confirms Parzival's Retirement