2017 CDI Wellington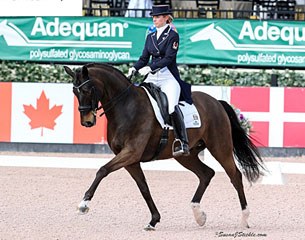 Canadian dressage athlete, Tina Irwin of Stouffville, ON has set the world's highest small tour score on record for 2017 during week seven of the Global Dressage Festival held 23 - 26 February 2017 in Wellington, FL. Irwin earned 78.708% for her Intermediaire I Freestyle at the 2017 CDI-W Wellington.
Tina's remarkable ride took place Feb. 26 in the CDI 1* Intermediate I Freestyle aboard Laurencio (Laurentio x Donerhall), a 10-year-old Oldenburg gelding she co-owns with her husband, Jaimey. Despite a power outage that stopped their music and forced a re-start, Tina and Laurencio kept their composure to earn the record-breaking score of 78.708%.
"This was Laurencio's first show of the season since Devon of last year, and I was very happy with the outcome," said Tina, a 2011 Pan American Games team silver medalist. "I felt a bit rusty with him on the first day of competition, but then we made our comeback the following two days. He really rose to the occasion for our freestyle on Sunday. I was extremely happy with our performance. I think our highlights are the degree of difficulty, and how well the music fits to him."
Jaimey also had an impressive test in the Freestyle. Partnered with Donegal V (Johnson x Gribaldi), a nine-year-old Dutch Warmblood gelding owned by Team Irwin Supporters Group, he scored 75.625% to claim third place. Together, Jaimey and Donegal V also captured two other top results during week seven, finishing second in both the CDI 1* FEI Prix St. Georges and the CDI 1*FEI Intermediate I with scores of 70.482% and 74.123%, respectively. Hot on his heels, Tina finished third in both classes, earning marks of 69.781% and 73.860% with Laurencio.
"It is great competing together with Jaimey," Tina explained. "I am happy for him when he does well and vice versa. I may be a bit more competitive than him though, so when he gets ahead of me it pushes me to be better and go for it. It helps to both be competing at the same level, as we can really relate to one another and talk about our rides and horses together - which helps make us better. The only time it hinders us is when we ride back-to-back and can't help each other. Then I have my mother there to be my eyes on the ground and she is always a confidence builder."
Photo © Sue Stickle
Related Links
Scores: 2017 CDI-W Wellington
Page Grabs GP Special Victory, Irwin Aces Inter I Kur at 2017 CDI-W Wellington