Danish Dressage News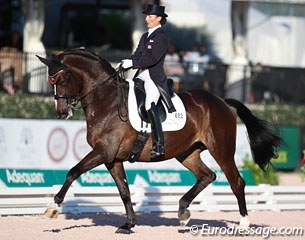 The Danish Equestrian Federation has announced the riders which have been submitted to the Grand Prix squads at the beginning of the 2017 show season.
Brand new Danish team trainer Nathalie zu Sayn-Wittgenstein visited Denmark's top Grand Prix riders at home to assess their current training level and have a conversation with the riders' expectations and goals for the year. 
Zu Sayn-Wittgenstein drew up an A, B and Under 25 Squad. Riders in the A-team have to have scored at least 70% in the Grand Prix or Special at a 3* or more the past 12 months. B-team riders need to have a 67% minimum and Under 25 riders need to have got 65% in the Intermediaire II or at a Danish B-national show).
The teams include:
A-team
Anna Kasprzak
Agnete Kirk Thinggaard
Anders Dahl
Anne van Olst
Cathrine Dufour
Daniel Bachmann Andersen
Mai Tofte Olesen
Mikala Münter Gundersen
Rikke Svane
B-team
Carina Nevermann Torup
Helene Melsen
Karin Nissen
Lena Leschley Åmand
Malene Kohlsmidt Ebbesen
Ulrik Mølgaard
Under 25 team
Anna Zibrandtsen
Katrine Gammelgaard Loft
Kathrine Springborg
Kristina Rasmussen
Laura Hviid
Maja Petersen
Sille Engermann
Victoria Vallentin
Photo © Astrid Appels
Related Links
Nathalie zu Sayn-Wittgenstein Appointed New Danish Grand Prix Team Trainer
Danish Youth Squads for 2017 Announced