Belgian Dressage News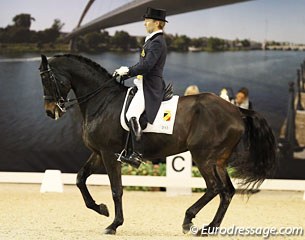 The Belgian Equestrian Federation (KBRSF) has posted the updated Grand Prix squads for the 2017 show season. Eleven Belgian Grand Prix riders are listed at the moment in three different squads.
The senior squad criteria for 2017 were updated on 4 January 2017. For A-squad submission a rider has to have achieved 71% in the Grand Prix or Special at a CDN observation trial or CDI in the last 9 months. For the B-squad the score is two times 68% and for the C-squad it is twice 66%. 
The Belgian A-squad has only two riders submitted at the moment. Biggest absentee is Fanny Verliefden with her top mare Annarico (by Lord Loxley) which has been injured since March 2016. 
The Under 25 squad has set two times 67% as criterium and no riders made the cut.
Belgian Grand Prix riders Julie de Deken, Philippe Jorissen, Claudia Fassaert, Laurence Vanommeslaghe, who represented Belgium at the European Championships and World Equestrian Games between 2013 and 2015, are all without Grand Prix horses at the moment. De Deken and Fassaert have two talented small tour horses on the way to Grand Prix. Jorissen's Le Beau has been sold and Vanommeslaghe's now 18-year old Avec Plaisir has not been out since the 2015 Europeans in Aachen.
The 2017 Belgian Grand Prix squads include:
A-Team
Jeroen Devroe - Eres DL (by Sir Lui x Balzflug)
Jorinde Verwimp - Tiamo (by Lester x Hemmingway)
B-Team
Jeroen Devroe - Aaron (by Florencio x Record)
Françoise Hologne Joux - Wodan (by Gribaldi x Pion)
Laurence Roos - Fil Rouge (by Stedinger x Argentinus)
Katrien Verreet - Galliani Biolley (by Sir Donnerhall x Lanciano)
C-Team
Claudia Dorpmans - Tin Tin (KWPN, pedigree unregistered)
David Engelen - Royal Rubinstein (by Rubin Royal x Sao Paulo)
Tom Franckx - Borsato (by Belissimo M x Weinzauber)
Jeroen Hannes - Bellagio (by Don Renoir x Rutter)
Tom Heylen - Gucci H (by Gribaldi x Wundermeyer)
Delphine Meiresonne - Wipsy van het Heihof (by Flemmingh x Saygon)
Photo © Astrid Appels
Related Links
Sjef Janssen's Contract as Belgian Team Trainer Renewed until 2020
Belgian Grand Prix Squads of 2016 Updated
Belgian Team Selected for 2015 European Dressage Championships
Belgian Team for the 2014 World Equestrian Games Announced