Belgian Dressage News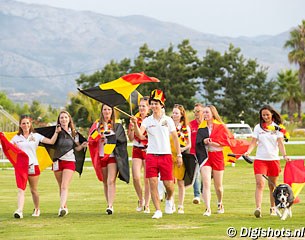 The dressage committee of the Belgian Equestrian Federation has announced new, stricter selection criteria for the 2017 CDI show season. The next standards were set in agreement with team trainer Sjef Janssen and chef d'equipes Jeroen van Lent and Alain Rauw.
As of 2016 a rider can be selected for international participation after achieving 66% two times in a "reference test."
New combinations have to score two times 66% as of 1 January 2017
Combinations which have scored 64% once at a CDN the past nine months, have to score 66% once at a CDN within the first three months of 2017 before they can compete internationally.
For combinations which scored 64% twice in the past nine months and who have achieved the international selection standard of 2016 will get a transition period of two times three months. This means that they can participate in a CDI in January, February and March and they have to score one time 66% either at the CDI or at a CDN. If they have not scored 66% in those three months, their international selection standard becomes invalid. In April, May and June they can compete internationally if they have achieved one time 66% in the first three months of 2017, but they have to score two times 66% at a CDI or CDN in those three months.
For younghorses the international selection criterium of 70% remains.
The Belgian dressage committee includes Marcel Nejszaten, Dominique Rimanque, Anne d'Ieteren, Freddy Leymn, Mariette Withages, Philip Brison, Didier Deschauwer and Wim Verwimp. 
Photo © Digishots
Related Links
Sjef Janssen's Contract as Belgian Team Trainer Renewed until 2020
Jeroen Devroe Wins 2016 Belgian Grand Prix Championships
Belaggio, Genie, Barroso, El Corona Texel Win 2016 Belgian Young Horse Championships
Meyssen, Morosini, Kielenstijn Win 2016 Belgian Youth Riders Championships