Hanoverian Breeding News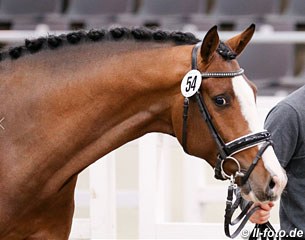 The 2016 Westfalian reserve licensing champion Zoom (by Zack x Don Schufro) was the only colt to receive a premium label at the 2016 Hanoverian Late Licensing and approval of young colts and older stallions in Verden, Germany, on 13 December 2016.
No less than 53 stallions were entered to be present at this late licensing and 29 of them were accepted for breeding for the Hanoverian and Rhinelander society. Three did not show up, including Buenos Dias (by Bordeaux x Don Kennedy)
Two colts were proclaimed premium stallion: the 2016 Westfalian licensing champion in jumping Karajan (by Kannan x Verdi) and the 2016 Westfalian Reserve licensing champion Zoom (by Zack x Don Schufro).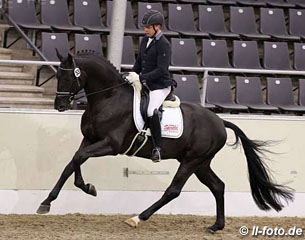 The Bundeschampion Don Martillo (by Don Juan de Hus x Benetton Dream) was approved.
Lynne Crowden's British bred Franz Ferdinand (by Furst Heinrich x Dimaggio) was rejected. Also Titolas (by Totilas x Stedinger), who won the 14-day stallion performance testing in Schlieckau, was not accepted for Hanoverian breeding.
Photos © LL-foto
The approved dressage bred colts are:
N.N. (by Ampere - De Niro) - Owner: Helmut Freiherr von Fircks
N.N. (by Livaldon - Laptop) - Owner: Antje Belludt
Zoom (by Zack - Don Schufro) - Owner: Landgestüt Warendorf
Bob Marley (by Bon Bravour - De Niro) - Owner: Josef Wilbers
N.N. (by Edward - Longchamp) - Owner: Landgestüt Celle
Federico Fellini (by For Romance - De Niro) - Owner: Dressurpferde Leistungszentrum Lodbergen
Zodiac MDM (by Zonik - Donnerschwee) - Owner: Familie Mathi
For Final (by For Romance - Dimaggio) - Owner: Dressurpferde Leistungszentrum Lodbergen
Best for Me (by Bretton Woods - Latimer) - Owner: Dressurpferde Leistungszentrum Lodbergen
Don Martillo (by Don Juan de Hus - Benetton Dream) - Owner: Axel Windeler & Mario von Depka Prondzinski
N.N. (by Estobar NRW - Don Crusador) - Owner: Landgestüt Celle
Ivanehoe (by Millennium - Hohenstein) - Owner: Hubertus Poll
Marc Cain (by Millennium - Don Primero) - Owner: Gestüt Sprehe
Related Links
Lemercier and Titolas, High Scorers of 2016 September 14-Day Stallion Performance Testings 
Slim Pickings at 2013 Hanoverian Late Licensing 
Five Colts Approved at 2011 Hanoverian Stallion Late Licensing