2016 Danish Youth Riders Championships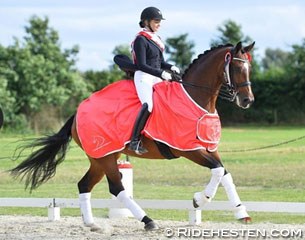 Junior rider Karoline Rohmann, young rider Michala Mejlgaard Jensen and Under 25 rider Sille Engermann became the grand champions and gold medal winners at the 2016 Danish Youth Riders Championships held in Ringsted, Denmark, on 26 - 28 August 2016.
In the junior division there was no doubt with the judges who the champion was. In the absence of Celine Rørbæk Silfen with Romio Hojris, Karoline Rohmann and the 9-year old Danish bred Noosa Melody (by Don Romantic x Schwadroneur) easily won all three rounds with a great point advantage. They had a landslide victory after scoring 73.811% in the team test, 75.658% in the individual and 77.125% in the Kur to finish on an overall of 226.594 points.  She was more than 11 percentage points ahead of silver medal winning Caroline Elsner on the 9-year old Alskenz (by Zardin x Zalmiak). She had a bit of a struggle in the team test placing 13th with  proper 68.054% but then found her stride and finished second twice with 71.211% and 76.000% to total 215.265 points. Calilla Andersen and the 8-year old Rafaella K (by Skovens Rafael x Hertug) were good for bronze with consistent scores of 70.514%, 70.658% and 73.475% (214.647 pts).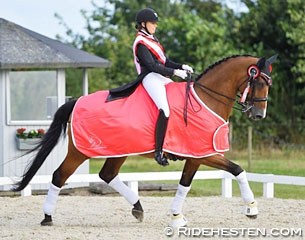 In the young riders division Michala Mejlgaard Jensen and the 15-year old Dutch bred Uno (by Olivi x Nooitgedacht) were a league of their own winning all three rounds with 71.395%, 70.921% and 74.600 to finish on the highest step of the podium with 216.916 points. Pernille Koch Rasmussen and the 15-year old Heslegards Robert (by Rubin x Landau) landed second place after scoring 69.368%, 70.605% and 72.875% (212.848 points). Caroline Aarosin and her 15-year old grey gelding Daydream (by Royal Diamond x Midt West Ibi Light) finished with bronze after scoring 69.263%, 69.737% and 73.500% (212.500 pts). Danish European Championship rider Maja Andreasen and Kano were a no show for the Nationals.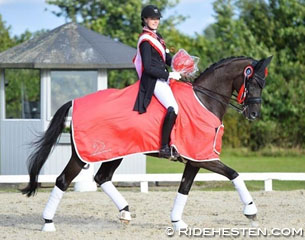 In the Under 25 division Sille Engermann and the 13-year old Westfalian bred Darius (by Donnerloh x Pik Solo) freewheeled to victory with three wins down their belt. They scored 69.289% in the Intermediaire II, 70.186% in the Short Grand Prix and 73.150% in the Kur to Music to finish on 212.625 points. Julie Dankau and her 14-year old Danish bred Overgaard's Lawell (by Weltjunge x May Sherif) were solid for silver with 68.579%, 68.116% and 71.250% (207.945). Nicole Graff had a bit of a roller coaster Nationals as she and her 12-year old Sandagergaards Lorentino (by Lorentin x Arizona Alfarvad) were second in the Inter II (69.053%) and then dropped to sixth place in the short Grand Prix (64.163%) to climb back to second place in the kur with 71.725%. They totaled 204.941 points for bronze.
Photos © Ridehesten
Results - 2016 Danish Youth Riders Championships - Ringsted
Junior Riders
1. Karoline Rohmann - Noosa Melody - 73.811 -  75.658 - 77.125 --- 226.594 
2. Caroline T. Elsner - Alskenz Firfod - 68.054 -  71.211 - 76.000 --- 215.265  
3. Camilla Søndberg Thomasberg Andersen - Rafaella K - 70.514 -   70.658 - 73.475 --- 214.647 
4. Olivia Lamm - San Dior -  68.432 -   69.895 -73.600 --- 211.927   
5. Anne-Mette Lyager - Brandtoftes Sjubell - 68.622 -  69.553-  72.400 --- 210.575   
6. Sandra Aagaard Hyrm - Cash - 69.676 -  69.395-  71.375 --- 210.446  
7. Frida Dam Toft Pedersen   - Sandbaks Florestan - 70.351 -  68.395 -  70.825 --- 209.571   
8. Victoria Kuusisto Pedersen - Don Johnson - 69.324 -  67.711 - 71.050 --- 208.085 
9. Maria Dahl-Bruun - Violstrupgaards Cassiopeia - 67.135 - 68.421 -  71.925 --- 207.481  
10. Amalie Aasted Albæk - Orevadbros Dior - 69.865 -  68.632 - 68.300 --- 206.797 
11. Vicky Pejter Larsen  - Herzog Hojris - 69.135 -  68.000 - 69.325 --- 206.46 
12. Sophia Øster Kristensen Solbakkesgaard Bajano - 69.162 - 67.632 -  69.150 --- 205.944 
13. Malene Rønhoff Gejl  - Hesselbjergs Dream Boy - 66.649 -  68.842 -  70.275 --- 205.766 
14. Anne Kathrine S. Eslund  - Flintegardens Deja Vu - 67.568 - 67.632 - 69.725 ---   204.925
15. Louise Højen Pedersen - Nyholts Nicoline - 66.622 -  68.342- 64.750 --- 99.714
Young Riders
1. Michala Mejlgaard Jensen - Uno - 71.395 - 70.921 - 74.600 --- 216.916   
2. Pernille Koch Rasmussen- Heslegards Robert - 69.368 -  70.605 -  72.875 --- 212.848   
3. Caroline Aarosin - Daydream - 69.263 -  69.737 -  73.500 --- 212.5   
4. Nana Gajhede - Zoom In - 68.447 -   68.816 - 70.250 --- 207.513  
5. Emma-amalie Wraa - Furst Fahrenheit L - 67.947 - 67.789 -  69.825 --- 205.561   
6. Pernille Pilborg - Holgaards Armani - 67.263 -  66.921 - 70.850 --- 205.034   
7. Mie Weimar - Kamar's Night Crawl - 66.342 -  67.105 -  67.850 --- 201.297  
8. Signe Andersen   - Waldemar - 67.421 -  67.158 -  65.975 --- 200.554   
9. Emma GLud Jørgensen - Hojersmindes Rolex - 65.684 -65.316 - 69.325 --- 200.325  
10. Emilie Kampmann - Rubin EG - 64.632 -   64.263 - 68.025 --- 196.92   
11. Trine Kristjandottir - Spanggaards Nephew - 63.447 -  67.026 - 66.025 --- 196.498  
12. Louise Karstoft  - Famaso - 63.184 - 65.237 - 66.800 --- 195.221 
13. Emma Nymand - Rollo - 64.421 -  67.421 - 63.350 --- 195.192  
14. Olivia Lysgaard  - Delacroix - 63.237 - 65.026 - 65.400 --- 193.663
15. Emma Bøjer Wimdrup  - Lazio - 62.921 -  64.816 - 64.025 ---  191.762
Under 25
1. Sille Engermann - Darius -  69.289 -  70.186 - 73.150 ---  212.625
2.  Julie Dankau - Overgaard Lawell -  68.579 -  68.116 - 71.250 ---  207.945
3. Nicoline Graff - Sandagergards Lorentino -  69.053 - 64.163 - 71.725 ---  204.941
4. Sara Juel Sproegel - Hot Shot - 66.289 -   66.140 -  70.500 ---  202.929
5. Kathrine Springborg - May Candeloro -   67.737 -  64.651 - 68.300 ---  200.688
6. Katrine Gammelgaard Loft - La Reina Romana - 66.421 -  65.744 - 67.650 ---  199.815
7. Kathrine Milling Jessen - Loke -  63.658 -  62.326 - 66.900 ---  192.884
8. Ulrik Falbe-hansen   - Kronborg's Highlight - 65.421 - 61.953 - 65.375 ---  192.749
9. Christina Søs Larsen - Heslegards Romulus - 62.105 -  63.023 -  64.325 ---  189.453
Malene Kjær Madsen - Sandbaks Wonder Hitt - DNS/RET
Related Links
Vallentin and Sorensen Win 2015 Danish Junior and Young Riders Championships
Engermann and Dam Vestergaard Win 2014 Danish Junior and Young Riders Championships
Sorensen and Dufour Win Gold at 2013 Danish Junior and Young Riders Championships