2016 CDI Cappeln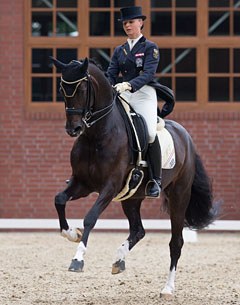 The first day of the 2016 Cappeln Dressage International was mainly dominated by the Austrians: Astrid Neumayer and Victoria Max-Theurer won the two Grand Prix-competitions while Sissy Max-Theurer's assistant trainer Stefan Lehfellner was unbeatable in the international young horses classes.
Astrid Neumayer saddled her European Championship horse Rodrigez and won the Grand Prix freestyle qualification by scoring 69,90%. Just behind them was American Jennifer Hoffmann on her bay Westfalian stallion Rubinio NRW, who received 69,66 percent. Julie Brougham, who came over from New Zealand, took third place on her chestnut gelding Vom Feinsten (68,08 percent). The best German rider ranked fourth Anna-Katharina Gerber with Farah Donna (67,96 percent).
The Grand Prix for the Special test was won by Victoria Max-Theurer, the daughter of show host Sissy Max-Theurer. The 30-year-old scored 71.82 percent for her performance on the 13-year-old Oldenburg mare Della Cavalleria OLD. Second and third place went to the Polish Aleksandra Szulc and Rumba Hit (69,96 percent) and Stella Charlott Roth with Rubin Action (69,04 percent). Susan Pape, who is representing Great Britain, ranked fourth withFiorano and 68,96 percent ahead of Max-Theurer's second assistant trainer Wibke Bruns on Luizao (68,24 percent).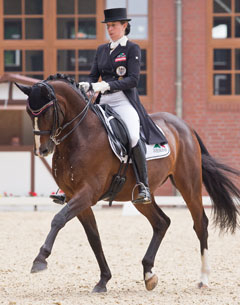 Stefan Lehfellner straightaway led the victory ceremony twice: once with the licensed Lilliano OLD in the international five-year-old class; and with the Achleiten home bred Albertina MT he won the six-year-old class. Wibke Bruns and Valparaiso took second place in the five-years-old class.
"Excellent conditions and sport worth-seeing - it was just a perfect start of the small but mighty show Dressage Cappeln Intenational's third edition," said  Sissy Max-Theurer said about the CDI4* at Gestut Vorwerk, which is visited by riders from more than 15 nations all over the world.
Photos © Tanja Becker
Related Link
Scores 2016 CDI Cappeln