FEI News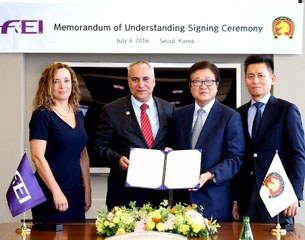 The Asian Equestrian Federation (AEF) has signed a Memorandum of Understanding (MOU) with the FEI, the world governing body for equestrian sport.
The AEF, founded in 1978 in Bangkok (THA), is headquartered in Seoul (KOR) and has 34 member National Federations.
"We are delighted to sign a Memorandum of Understanding with the FEI, reinforcing our vital bilateral collaboration," said Mr Sang Jin Park, Asian Equestrian Federation President, Korea National Federation President and President of Samsung Electronics. We have today discussed practical methods to promote and develop equestrian sports in Asia, and have reaffirmed the need to strengthen the role of the AEF as a representative of its 34 National Federation members. We look forward to attracting further high profile international equestrian events to Korea and the Asian continent working closely with the FEI."
Hundreds of international equestrian events will take place across the Asian continent this year, and in 2018 in Jakarta (IND) equestrian sport will celebrate its ninth appearance at the Asian Games, also known as the Asiad, which are held every four years in the middle of the Olympic Games cycle.
"Equestrian sport has developed tremendously in Asia over the last decade, but this is just the beginning. The Asian continent represents a huge opportunity for equestrian sport to broaden its footprint, and the FEI is working hand in hand with the AEF and its National Federation members to make this happen," FEI President Ingmar De Vos said. "The biggest challenge is facilitating transportation of horses across borders. It is therefore important that we continue our efforts with the World Organisation for Animal Health [OIE] to make our High Health High Performance [HHP] horse concept operational. Over the next five years, major sporting events including a number of 5* competitions, and of course the Tokyo 2020 Olympic and Paralympic Games, will be hosted in Asia. The FEI is looking forward to further developing our sport as part of this new and closer cooperation with the AEF, creating more opportunities for high profile equestrian events to be staged across the Asian continent and having more Asian athletes competing in our top competitions."
Related Links
FEI Signs Landmark Agreement with Olympic Channel
European Equestrian Federation Signs Memorandum of Understanding with FEI
World Breeding Federation for Sport Horses Signs Memorandum of Understanding with FEI
International Dressage Trainers Club and FEI Sign Memorandum of Understanding
International Dressage Riders Clubs Signs Memorandum of Understanding with FEI
FEI and International Equestrian Organisers Alliance Sign a Memorandum of Understanding