2016 Preis der Besten Qualifier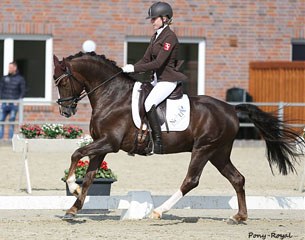 Pony rider Luna Laabs, junior rider Rebecca Horstmann and young rider Jil-Marielle Becks were the winners of the 2016 Preis der Besten qualifier in Vechta, Germany, on 16 - 17 2016. The qualifier was held for youth riders based in the north of Germany and was one of only two held in Germany before the finals in Warendorf in May.
In the pony division Luna Laabs reigned supreme on her 8-year old liver chestnut stallion Carlos (by Constantin x Donnerhall) winning the first round with 72.692% and the second round with 74.512%. Laabs had Katharina Ottenwess on her heels, who scored 72.650% in round one (2nd) and 71.585% in round two (4th) with the 12-year old grey Mondsilber (by Monte Christo x Forge Cirrus). Lucia Anouk Baumgurtel and her buckskin 11-year old Massimiliano (by Minsun N x Cap Cennedy N) were solid throughout the weekend with 72.479% (3rd) and 73.640% (2nd).
Rebecca Horstmann and her 8-year old Oldenburg gelding Friend of Mine (by For Compliment x Rubinstein) were a league of their own in the junior riders' division winning both rounds with 72.117% and 74.868%. Maike Mende and the 12-year old grey Westfalian Rotschild (by Roh Magic x Pik Labionics) were second on Saturday with 70.766 and dropped to third place on Sunday with 71.447%, bested by Marlina Garrn on the 8-year old Hanoverian Di Baggio (by Dimaggio x Lanthan) who scored 71.579% on Sunday after a third place (69.640%) the day before.
Just like last year Jil-Marielle Becks dominated the Vechta Preis der Besten qualifier in Vechta, only this year she's not campaigning world famous stallion Damon Hill, but his offspring Damon's Satelite, an 8-year old Westfalian gelding out of a Rubin Royal dam. She won round one with 73.772% and round two with a whopping 76.096%. Anna Lisa Theile and the 10-year old Oldenburg Ducati K (by Damon Hill x Rosenkavalier) were very consistent and landed second place twice with 70.132% and 73.114%. Ann Kristin Arnold and Rio de Janeiro (by Riccione x De Niro) were third on Saturday with 68.684% but dropped to eight place on Sunday with 66.842%, leaving plenty of rooom for Ellen Richter to grab that third slot on her 11-year old Westfalian Fontane (by Florestan x Lanthan) with 71.447%.
Photo © Pony Royal
Results - 2016 Preis der Besten Qualifier - Vechta
Pony Riders - Round 1
1. Carlos - Laabs,Luna  -  72.692%
2. Mondsilber - Ottenweß,Katharina  -  72.650%
3. Massimiliano - Baumgürtel,Lucie-Anouk  -  72.479%
4. Doubtless - Sieverding,Marlene  -  71.282%
5. Cassiopea - Löbbert,Nele  - 70.769%
6. DW's Flic Flac - Schölermann,Anna  -  69.615%
7. Der kleine Goldbär - Eickhoff,Helena  - 69.188%   
8. Tesio - Stuhldreier,Laura  - 69.017%   
9. Dow Jones - Laabs,Luna  - 68.761%   
10. Tyra M - Schönfeldt,Jule Marie  -  68.291%   
11. Champ of Class - Pistner,Valentina  -  67.607%   
12. Grenzhoehes My Ken - Schenk,Jacob  - 67.393%   
13. Don Miguel FH - Baumgürtel,Lucie-Anouk  - 67.051%   
14. Da Capo's Dancing Boy - Sieverding,Johanna  -  66.581%   
14. Contrast - Jürgens,Anna-Margareta - 66.581%   
16. Don Davidoff - Sieverding,Johanna  -  66.410%   
17. Westerhuis Jorik - Lass,Caroline  -  66.325%   
18. Mister Dornik - Schmidt,Henriette  -  65.727%   
19. Der kleine König - Barbian,Julia  -  64.786%   
20. Cyranno - Barbian,Julia  - 63.718%   
21. Nobel Nagano - Frei,Isabella  -  60.128%   
Junior Riders - Round 1
1. Friend of mine - Horstmann,Rebecca  -  72.117%
2. Rothschild - Mende,Maike  -  70.766% 
3. Rendezvous - Michels,Luca  - 69.640% 
3. Di Baggio - Garrn,Marlina  -  69.640%
5. Luciano - Burschik,Kim  -  69.234%
6. Faible-As - Hendricks,Felicitas  - 69.099%
7. Don Henrico - Timmermann,Elisa  -  68.288%   
8. Weltinda - Falke,Nadine  - 67.207%   
9. Allerbeste - Baumgart,Hendrik  -  67.162%   
10. Silencium- Reef,Sophie  - 67.072%   
10. Donauprinzessin - Kastening-Richter,Erja  -  67.072%   
12. Darboven - Holzknecht,Paulina  -  66.892%   
13. Donna La Roma - Plinke,Madeleine  -  66.667%   
14. Fire Moon P -Rühl,Annika  - 66.396%   
15. Lord's Liebelei - Grellmann,Laura-Eve  -  66.171%   
16. Rose Magic - Ernst,Helena  -  65.495%   
17. Sülberg - Grunwald,Nane  -  64.775%   
18. Luciano - Vosskötter,Anna-Lena  - 64.685%   
19. Faynaa - Grellmann,Laura-Eve  -  64.189%   
20. Reine Freude - Koecher,Vivien  - 63.829%   
21. Westerland - Monsig,Laura Marie  - 61.892%   
22. Sans Souci - Michels,Luca  - 54.009%
Young Riders - Round 1
1. Damon's Satelite - Becks,Jil-Marielle  - 73.772%
2. Ducati K - Theile,Anna-Lisa  -  70.132% 
3. Rio de Janeiro - Arnold,Ann-Kristin  -  68.684%
4. Fontane - Richter,Ellen  - 68.640%
5. Fuerst Rohan - Schwiebert,Franziska  -  68.377%
6. Alonso V - Averkorn,Claire-Louise  - 68.289%   
7. Condio B - Averkorn,Claire-Louise  - 67.807%   
8. Stromberg - Theile,Anna-Lisa  - 66.710%   
9. Felicity D - Rosch,Raika-Marie  -  66.140%   
10. Four Ever - Cichos,Hannah  -  65.745%   
11. Gorklintgards Hayden - Sönnichsen,Jana Christin  - 65.044%   
12. Hogholm's Facel-Vega - Schwiebert,Franziska  -  64.912%   
13. Wytens - Giner,Julia  -  64.781%   
13. Feivel's World - Brüning,Kim  -  64.781%   
15. Herzog - Rosch,Raika-Marie  - 63.860%   
16. Lousiana K - Funke,Sophia  - 63.596%   
17. Aida Luna - Breimann,Lisa  -  63.553%   
18. Indian Queen- Mann,Ragna  -  63.465%   
19. Balian - Misztl,Marie-Luise  - 62.412%   
20. D' Artagnon - Emmerich,Luisa  - 62.280%
Pony Riders - Round 2
1. Carlos - Laabs,Luna  - 74.512%    44 €
2. Massimiliano - Baumgürtel,Lucie-Anouk  - 73.740%    36 €
3. Doubtless - Sieverding,Marlene  -  72.764%    30 €
4. Mondsilber - Ottenweß,Katharina  -  71.585%    26 €
5. DW's Flic Flac - Schölermann,Anna  - 70.569%    24 €
6. Da Capo's Dancing Boy - Sieverding,Johanna  -  70.406%   
7. Dow Jones - Laabs,Luna  -  70.244%   
8. Nobel Nagano - Frei,Isabella  - 69.919%   
9. Der kleine Goldbär - Eickhoff,Helena  -  69.675%   
10. Cassiopea - Löbbert,Nele  - 69.593%   
11. Grenzhoehes My Ken - Schenk,Jacob  -  69.390%   
12. Der kleine König - Barbian,Julia  -  69.268%   
13. Don Davidoff - Sieverding,Johanna  - 68.699%   
14. Don Miguel FH - Baumgürtel,Lucie-Anouk  -  68.618%   
15. Champ of Class - Pistner,Valentina  -  68.455%   
16. Tesio - Stuhldreier,Laura  - 67.846%   
17. Westerhuis Jorik - Lass,Caroline  -  67.358%   
18. Tyra M - Schönfeldt,Jule Marie  - 67.195%   
19. Contrast - Jürgens,Anna-Margareta - 66.789%   
20. Mister Dornik - Schmidt,Henriette  -  66.626%
Junior Riders - Round 2
1. Friend of mine - Horstmann,Rebecca  - 74.868%
2. Di Baggio- Garrn,Marlina  - 71.579%
3. Rothschild - Mende,Maike  - 71.447%  
4. Darboven - Holzknecht,Paulina  - 68.684% 
5. Rendezvous- Michels,Luca  -  68.509%
6. Don Henrico - Timmermann,Elisa  -  68.465%  
7. Luciano - Vosskötter,Anna-Lena  -  68.333%   
8. Faynaa -Grellmann,Laura-Eve  -  68.246%   
9. Weltinda - Falke,Nadine  -  67.851%   
10. Faible-As - Hendricks,Felicitas  -  67.763%   
11. Lord's Liebelei - Grellmann,Laura-Eve  -  67.149%   
12. Rose Magic- Ernst,Helena  -  67.018%   
13. Silencium - Reef,Sophie  - 66.184%   
14. Reine Freude - Koecher,Vivien  -  65.834%   
15. Allerbeste - Baumgart,Hendrik  -  65.702%   
15. Luciano - Burschik,Kim  -  65.701%   
17. Donna La Roma - Plinke,Madeleine  - 65.439%   
18. Donauprinzessin - Kastening-Richter,Erja  -  65.351%   
19. Sans Souci - Michels,Luca  -  64.605%   
20. Fire Moon P - Rühl,Annika  - 63.202%   
21. Westerland - Monsig,Laura Marie  -  61.448%   
Young Riders - Round 2
1. Damon's Satelite - Becks,Jil-Marielle  - 76.096%
2. Ducati K - Theile,Anna-Lisa  -  73.114%
3. Fontane - ichter,Ellen  - 71.447%
4. Alonso V - Averkorn,Claire-Louise  -  70.965% 
5. Hogholm's Facel-Vega - Schwiebert,Franziska  - 69.517%  
6. Aida Luna - Breimann,Lisa  -  68.860%   
7. Condio B - Averkorn,Claire-Louise  - 68.202%   
8. Rio de Janeiro - Arnold,Ann-Kristin  -  66.842%   
9. Fuerst Rohan - Schwiebert,Franziska  - 66.272%   
10. Stromberg  - Theile,Anna-Lisa  -  65.746%   
11. Feivel's World - Brüning,Kim  - 65.439%   
12. Felicity D - Rosch,Raika-Marie  -  65.088%   
13. Gorklintgards Hayden - Sönnichsen,Jana Christin  - 64.824%   
14. Lousiana K - Funke,Sophia  -  64.605%   
15. Four Ever -Cichos,Hannah  - 64.167%   
16. Indian Queen - Mann,Ragna  -  64.035%   
17. D' Artagnon - Emmerich,Luisa  -  63.947%   
18. Wytens - Giner,Julia  - 63.289%   
19. Herzog - Rosch,Raika-Marie  -  63.158%   
20. Balian- Misztl,Marie-Luise  -  60.395%
Related Links
Schroer, Rothenberger, Abbelen Win 2016 Preis der Besten Qualifier in Kronberg
Participants for 2016 Preis der Besten Qualifiers Announced