Auction News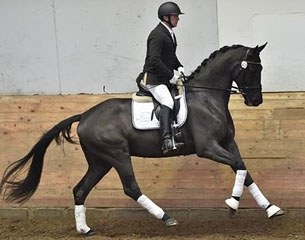 The show jumping bred Volstrups Caroline became the top selling horse of the 2016 Danish Warmblood Spring Auction held during the annual Danish Stallion Licensing in Herning, Denmark, on 19 March 2016.
The 7-year old jumper mare Volstrups Caroline (by Churchull x Corlando) is bred by Stutteri Volstrup and was presented by Lykkegaard. She sold for 850,000 DKK (114,000 euro) to Jan List Christensen, whose daughter Anne Hou Christensen is a talented jumping rider.
Initially the top knock down price of the auction was 1.5 million DKK (200,000 euro) for the licensed 3-year old dressage stallion Sandagergårds Faustino (by Fürstenball x Sam-Sam). However, after the hammer struck the seller refused to accept this offer for the stallion and a sale did not take place.
"We were aware that there was a very high bid, but it was not enough for a change of ownership. It is one of the chances that both the seller and the auction committee take," said auction committee chair Ulrik Kristensen.
So the most expensive dressage horse at the auction was Thybo's Laban (by L'Espoir x Michellino), bred and owned by Djon Thybo. It sold for 220,000 DKK (29,500 euro).
The 12-year old pony rider Anders Hoeck, son of dressage rider and trainer Hans-Jorgen Hoeck, became the owner of Bøgelys Latina (by Crelido x Lavall) for 140,000 DKK (18,700 euro).
Sixty-three percent of the horses auctioned found a new owner at this 2016 Danish Warmblood Spring Auction. The average price for a horse was approximately 23,000 euro.