Swedish Warmblood Breeding News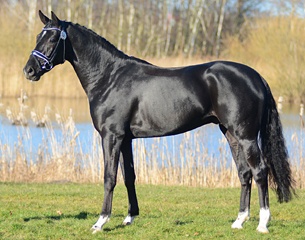 The Oldenburg bred Total Hope became the winner of the 2016 Swedish Stallion Performance Testing which concluded on Sunday 13 March 2016 at the Swedish state stud in Flyinge.
Total Hope is an embryotransfer product by Totilas out of interational Grand Prix horse Weihegold (by Don Schufro x Sandro Hit) and is bred and owned by Paul Schockemohle. He was presented at the testing by Heiko Klausing.
On the final day of the testing, the stallions were test ridden by two guest judge riders from Denmark: Rune Willum and Michael Sogaard.
A total of 21 stallions was approved following a positive performance testing in Flyinge; only nine of are dressage bred.
The approved dressage bred stallions are:
Zafferano (SWB, by Zaladin x Bernstein) - Breeder and owner: Verbena AB
Amplitud SD (SWB, by Ampere x De Niro) - Breeder: Stall Damino - Owner: Hannell
Dragon Welt (SWB, by Dancier x Weltmeyer) - Breeder: Pernilla Svensson - Owner: Tullstorp
Gammelengsgards Zappa (DWB, by Zonik x Akinos - Breeder: Nanna Voss Jonsson - Owner: Gunnarlunda
Fairway (SWB, by Floricello x Sandro Hit) - Breeder: Helene & Anders Johansson, Owner: Bjorkas
Klifton (SWB, by Floricello x Briar) - Breeder and Owner: Anette Syren
Total Hope (OLD, by Totilas x Don Schufro) - Breeder and owner: Paul Schockemohle
Deodoro (Westf, by Damon Hill x Lauries Crusador xx) - Breeder: Christian Becks, Owner: Per Runesson/Johan Ifverson
Skovens Rafael (WDB, by Romanov x Don Schufro) - Breeder: Kirsten Hansen & Jens Lund Pedersen, Owner: Priess
Touchdown (SWB, by Quaterback x Sack) - Breeder and Owner: Verbena AB
Hesselhojs Donkey Boy (DWB, by Dancing Hit x Milan) - Breeder: Dorthe & Hans Jorgen Hoeck, Owner: Kirsten Andresen
Thoroughbred
Bosun's Watch xx (by Singspiel xx x Midyan xx) - Breeder: Losford Manor - owner: Maria Dalborg
Stallions who did not pass the testing were:
Illusion (KWPN, by Dream Boy x For Romadour) - Breeder: R. van Erp - Owner: Gransbo, Johan Ifverson, Egbert Schep
Justice for U (SWB, by Zack x Bocelii) - Breeder and owner: Ugglarps gard
Shizeido GJ (SWB, by Sezuan x Danzas) - Breeder and owner: Gustaf Johansson 
Mr Bojangle (German bred, by Benetton Dream x Wittinger) - Breeder: Gunther Janzen - Owner: Lovsta
Heathrow (KWPN, by Apache x Gribaldi) - Owner: Jorgen Hemmingsen
Oban VH (SWB, by Floricello x De Niro) - Breeder & Owner: Vastra Hoby and Torsten Hansson
Sir Donovan (?, by Sir Donnerhall II x Don Primero) - Breeder & Owner: Vikestallet
Millicano NL (?; by Sir Donnerhall II x Danone I) - Breeder and Owner: Bengt Nilsson
Bel Air (OLD, by Belissimo M x Rosario) - Breeder: Sandra Freihofer - Owner: Bjorkas
Gorklintgards Quinto (DWB, by Quaterback x Sunny Boy) - Breeder: Jorgen Ravn, Owner: Dan Nordenberg
The 3-year old Fiorello (by Floricello x Topaasch) was withdran during the testing.
Photo © private
Related Links