American Dressage News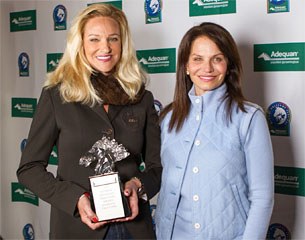 Carol Cohen, Engel & Völkers real estate advisor, had a busy Friday night during the fan favorite Grand Prix Freestyle competition at the Adequan Global Dressage Festival on 27-28 February 2016. Before the competition got under way, Cohen presented Kimberly Van Kampen Boyer with the Global Dressage Visionary Award.
Cohen then zipped over to the Van Kampen Covered Arena to make sure that all participants in her Leadline Exhibition were prepared for their upcoming show in the International Arena. Cohen, who is an important member of both the Wellington and the international dressage communities, was thrilled to be supporting two of her most significant causes in one special evening.
The Global Dressage Visionary Award was developed by Carol Cohen to accompany her 2016 sponsorship of the Adequan Global Dressage Festival. Cohen, who was a founding member of the Adequan Global Dressage Festival, wanted to recognize others who, like herself, envisioned a place in Wellington where top dressage riders could compete against one another in much the same way as their hunter and jumper counterparts did at the Winter Equestrian Festival. Past recipients of the prestigious Global Dressage Visionary Award include Robert Dover, Mark and Katherine Bellissimo, and Carl Hester.
"Kim was responsible for building our amazing covered arena here at the Adequan Global Dressage Festival. Kim has always been someone that I have looked up to; she is a mother, a dressage enthusiast, and has been an incredible role model within our community. She is somebody who walks the walk and talks the talk, and I am so honored to give her this award," said Cohen at the Global Dressage Visionary Award presentation.
Boyer's influence and contributions in the Wellington dressage community began in 1998, when warm weather and horses brought her from Michigan to Florida. "By 2000, I had purchased Hampton Green Farm, where I escaped to as often as I could." Boyer now runs a successful PRE breeding program from her Hampton Green Farm, just around the corner from the Adequan Global Dressage Festival show grounds. "I breed Spanish horses, and I breed them for dressage. I have a very good breeding stallion, Grandiso, who was on the Spanish dressage team for the London Olympics and we are trying again for this upcoming Olympics," said Boyer.
Boyer is also well known in Wellington for her support of young aspiring dressage riders. Boyer has helped make such events possible as the Florida International Dressage Youth Festival and the USEF Youth Dressage Program. She has hosted Lendon Gray's Winter Intensive Training Program at her Hampton Green Farm, and actively supports Gray's Dressage4Kids program.
Like Boyer, Cohen believes that supporting the next generation in dressage is crucial to the sport's future. To that end, she has joined forces with Equestrian Sport Productions and Robert Dover to present the Adequan Global Dressage Leadline Division throughout the 2016 season to create a pipeline for young riders into the sport. The most recent leadline class took place during the intermission of this week's Grand Prix Freestyle event, and showed nine aspiring riders what it was like to compete under the lights and in front of an enthusiastic crowd. The class was judged by United States Dressage Chef d'equipe, Robert Dover, and world renowned German 5* judge Uwe Mechlem. All of the leadline participants were awarded with a blue ribbon, an Adequan Global Dressage Festival medal, and DSB Sport Boots. This week's class featured a Leadline Turnout Award. The Turnout Award winner was presented with a set of brushes to help continue to take great care of their pony.
Anyone interested in participating in the next Leadline class on March 18 should contact Carol Cohen via her Facebook page.
As a professional with a strong commitment to promoting the equestrian lifestyle through honoring successful equestrians, encouraging young riders, and offering luxury real estate sales, Cohen's attention to detail and impeccable taste is sure to continue to transform homeowner's visions into realities. For more information about Carol Cohen and her business at Engel & Völkers Real Estate in Wellington, please visit http://carolcohen.evusa.com/.
Related Links
Olympian Carl Hester is Awarded Global Dressage Visionary Award by Carol Cohen
Engel & Völkers Advisor Carol Cohen Recognizes Dressage Visionaries at the 2016 Global Dressage Festival