2016 CDI Jerez de la Frontera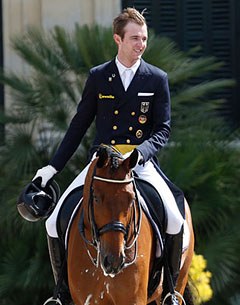 What a treat it was yesterday in Jerez at the CDI3* Royal Andalusian School of Equestrian Art. Everybody enjoyed splendid sunshine, the temperature was rising at last and the spectators were gathered in front of the beautiful scenery of the Royal Palace. The Duque de Abrantes Palace is the symbol of the REAAE and yesterday morning it witnessed the rise of a new young star and the excellent skill of one of the world's best riders on the international Dressage scene. There was no space left around the arena, not even standing room, as nobody wanted to miss those performances.
Sönke Rothenberger and "cosmic" Cosmo, as we have dubbed him after his very first Grand Prix in Jerez, achieved a double victory and were the winners of the music gift awarded by the test's sponsor, ZettaSportMusic, which presented a customised Freestyle music package to young Sönke and Cosmo.
The Rothenbergers, farther and son, were delighted with another outstanding score of 77.941% despite Sönke making an error of course, in a result in which all the judges on the spot unanimously placed him first in a test with fifteen participants. No doubt about it, they are on their way to be part of the national team in Germany and who knows where this might take them along the year. When we spoke to Sven, we of course played down our excitement as we don't want to add any pressure; nonetheless, superb Cosmo is truly cosmic.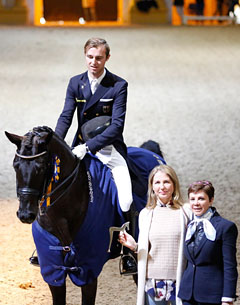 Sönke and Cosmo are definitely hitting all the right notes because in spite of his error the young rider continued his performance very calmly, allowing his horse to shine in all the required movements and exercises. The horse is wonderful, especially as regards his nature, it seems. After completing the test, Sönke spoke to us and said that Cosmo makes groom Robby, himself and everybody in the stable laugh a lot because he is such a character.
Sönke was very happy with the gift he was awarded by the sponsor. He said that the timing was perfect, as they were keen to do a Freestyle, and so it was a wonderful present coming at just the right moment. We suppose that there will be differences between the music tastes of a young rock-music lover and those of the musicians and singers of the rather more classical Mariinsky Theatre in Saint Petersburg; it will be fun to watch the results of their collaboration.
Earlier, we referred to the know-how of one of the best riders in the world. We were, of course, referring to Carl Hester and Nip Tuck (by Don Ruto x Animo), who attained second position on the podium with a score of 75.020%.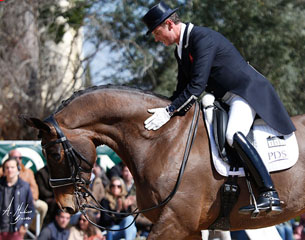 For the first time in his life, he committed an error of course in his test, but whoever was watching him perform yesterday was able to see a master class in riding a horse: it was a display of flowing movement, showing no tension and making everything look easy, and above all showing respect for a horse which is not perhaps the most physically gifted by nature but which has the heart and the will to please his rider.
Third position was taken by a Portuguese combination Gonçalo Carvalho and the mare Batuta (by Quixote out of Jandaia by Icaro); this combination scored 73.412% with a nice performance. The event has really been a success for Iberian horses and certainly for Lusitanos there are five within the first ten in the overall classification. María Caetano and the young grey stallion Coroado (by Rubi out of Luxelia) are achieving good results still in the early stages of their career, as this is only their third Grand Prix. The grey stallion is owned by Spanish stud farm Finca Tineo and already has a good track record as a young horse.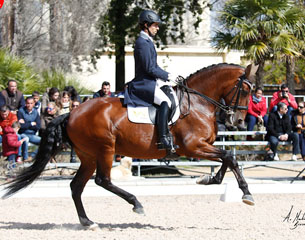 The best Spanish combination comprised the rider José Antonio García Mena and his horse Sir Schiwago (by Sir Donnerhall out of Dajana by Lanciano). This pairing belongs to the ZettaSportTeam which is linked to ZettaSportMusic, the sponsor of the Grand Prix tests over this fortnight of CDIs in Jerez. They made their debut at their very first Grand Prix Special yesterday, scoring an average of 68.471%; their piaffe and passage are looking very promising.
José Daniel Martin Dockx and Bolero CXLVIII (by Utrerano VII out of Felina XVIII by Urano II) were breathing up their neck. Bolero was the best PRE stallion in this competition, owned by Hampton Green Farm. It was their first ever Grand Prix Special and they did very well, considering that in this, their third CDI3*, they were ranked among the top five best Iberian combinations in this test, with an average score of 68.373%.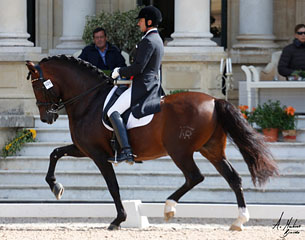 Richard Davison and Bubblingh 69,255%) placed forth in the Grand Prix Special. The combination is interesting and Richard has a special connection to this powerful Kwpn, bred at his own yard out of his winning mare Ballaseyr Royale and by Edward Gal's former top ride Lingh. Richard Davison competed fourteen years ago with Ballaseyr Royal at the WEG in Jerez 2002. With Bubblingh he started to compete in Grand Prix internationally last year in may and this is their second GP in 2016, Bubble how he´s called at home is only ten years old.
We all missed Charlotte Durjardin and Barolo yesterday in the Special; however, their very first Grand Prix on Friday had been a resounding success and a delight to watch and there is no need to push such a young horse. Instead, we look forward to seeing the pairing again in the CDI next week.
We are, of course, hoping to see Charlotte compete on gorgeous Valegro next weekend, they will decide by the moment! He has become a real celebrity and is of course in the centre of attention. The crowd is watching them training which is already a treat, he is such an amazing horse and Charlotte is a top rider who has a great trainer on the ground whispering in her ear - wireless communication and headphones have been such a breakthrough for training, and watching them work together, each of us must come to our own conclusions. This combination is certainly the top, as this very powerful, extraordinary horse and his fine rider are transforming into an amazing combination, to our eye.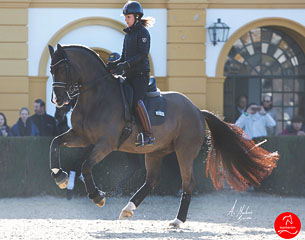 And thus, the first REAAE CDI3* has ended. We had it all: thunderstorms and plenty of water but also sunshine and, most importantly, beautiful horses. As always at the beginning of the year, new pairings are emerging. It is most fascinating to be present at these events where one can see new stars born and here in Jerez there are certainly some to be seen.
Excitingly, here is still one more week to enjoy at the Royal Andalusian School of Equestrian Art. On 2 March, we will be back for the second CDI3*, once again with our sponsors and partners ZettaSportMusic, Dos Lunas Dressage, the Jerez City Council, El Diario de Jerez newspaper, the JARACAR Audi Jerez brand, the Juan Gil wineries, the fantastic Momento Andaluz catering service and the HACE Jerez & Spa.
This year, the competition is broadcasted live at http://www.topiberian.com/ on every day of the competition. The results will be available in real time at http://scores.topiberian.com/. Large crowds are expected to attend, but additionally it is anticipated that many people will be watching the internet broadcast. Bobby Fernández de Bobadilla will be providing the commentary for the broadcasts for those who are unable to be there in person. Looking forward to see you soon again.
Text by Katharina Braren / photos by Alberto Martinez Bracero for Top Iberian
Related Links
Scores 2016 CDI Jerez
Dancing in the Rain: Rothenberger and Cosmo Win 2016 CDI Jerez Zetta Sport Music Grand Prix
Second Call for Entries Bring Top Riders to 2016 CDI Jerez at Royal Andalusian School of Equestrian Art