Hanoverian Breeding News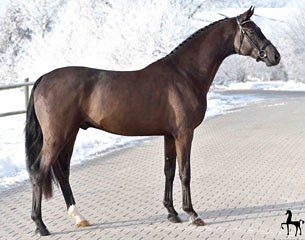 Dressage Performance Centre Lodbergen is proud to announce a spectacular new addition to its stallion roster. Stud director Urs Schweizer has discovered the 3-year old Hanoverian black stallion Frascino (aka Fairtrade KL) sired by Furst Wilhelm in The Netherlands. Because of his outstanding three basic gaits and has spectacular expression Frascino is already licensed with the Oldenburg society.
Oldenburg breeding director Dr. Wolfgang Schulze-Schleppingshoff and licensing committee member Jurgen Koschel were enthused by this black stallion: "An extraordinary horse of the very best quality. We are happy that this stallion is coming to Germany!"
Lodbergen stud director Urs Schweizer explained that, "the truly gorgeous and expressive Frascino impressed especially with his delightfully lightfooted and balanced movement potential in trot and canter. He has a very ground covering walk which is close to perfection."
Following the 2016 KWPN Stallion Licensing in 's Hertogenbosch at the beginning of February, Frascino will join sires Dante Weltino OLD, For Romance and Follow Me OLD in Lodbergen. The young black colt has a truly sympathic character and "is closely related to highly successful horse as his dam is half sister to the World Number Two dressahge horse Desperados FRH (under Kristina Bröring-Sprehe)," Schweizer added.
Frascino is bred by Manfred Zimmermann from Dümpelfeld, Germany, and has been reared by Jeroen Korsten in Oss, The Netherlands. His sire Fürst Wilhelm was the 2012 Oldenburg Regional Champion as a 6-year old, qualified for the Bundeschampionate and is now trained at S-level. He has four licensed sons, including the Regional and Bundeschampion Fürst William HC and the Mecklenburger reserve licensing champion.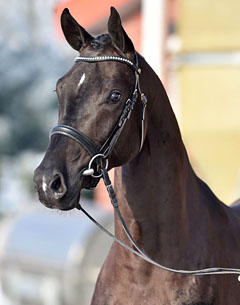 Frascino's dam Danzmusik has been placed in dressage tests and is now a brood mare in The Netherlands. She is a half sister to the licensed Desperados FRH (by De Niro), who won team gold at the World and European Championships, team silver at the 2012 Olympics and individual silver at the 2015 European Championships.
Frascino's dam sire is Celle state stud sire Don Frederico, who was named 2012 Hanoverian Stallion of the Year. He has sired over 40 licensed sons, including championship stars Diva Royal and Don Johnson FRH.
Frascino's blood line also includes Wolkenstein II, Matcho AA and Pik König (by Pik As xx). Great grand dam, state premium mare Maskottchen, produced the S-level dressage horses Rapati and Welfenkönig, M-dressage horse Wollondilly and Bundeschampionate bronze medallist Wie Platine.
The dam line produced licensed stallions Condiro, Scarosso, Rocko Barocko, Quveed'Or GT, Sophokles, Don Nobless and Don Marcello.
"We are ecstatic to offer this highly appealing young stallion to our breeders," said Urs Schweizer.
German breeders can see Frascino live at the Stallion Show for Private Stud Owners on 13 February 2016 in Munster-Handorf, followed by the stallion show for Dressage Performance Centre Lodbergen in Vechta, Germany, on 21 February 2016.
More information at http://dressurleistungszentrum.de/