British Dressage News
Abby Newell's sport consultancy company Piaffe has grown exponentially since it was set up after the 2012 Olympics to manage the Olympic, European and World Champion Charlotte Dujardin.
At the time Newell's main role was in film and television in a company she used to work for that worked on programmes such as Downton Abbey and The Hunger Games. In January 2015, director Abby Newell left her role and took Piaffe full time and since then she has added more riders and clients to the roster and has big visions for the year ahead.
The company describes itself as a management and strategic consultancy for the sport and entertainment sectors and on the sport side, which is purely equine clients for now, the world of agents is still a fairly new concept to the global equestrian industry, something not really deemed an option to riders in the past but Newell feels this has changed.
"Without question equestrianism continues to grow in popularity, particularly dressage," Newell stated. "Olympia in London is very clear example of this, with sell out crowds turning up in the stands every year! With more eyes on the sport and more headlines in the mainstream media, the more opportunities are becoming available. Riders look to us for advice to make the most of their opportunities: ie what is a good sponsorship, is it the right brand for them, are they passionate about the brand, is the contract fair for both parties and so forth. Whilst we represent the riders first and foremost, we want the brands who sponsor them to feel that a sponsorship with a rider represented by Piaffe means they also have a wider network of support from us, so that the sponsorship terms are fulfilled and they are not just relaying on the rider to deliver on their side of the deal. It works very well"
Eurodressage - Can you give us an example of a recent sponsorship?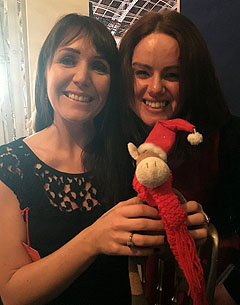 Abby Newell: I'm proud to say we've done quite a lot now but a recent example is the Prestige Italia sponsorship of British dressage rider, Alice Oppenheimer. I went to Spoga as a visitor last year and met Mark and Jenny Hammett of Hammett Equestrian who is the agent for the brand in the UK and I instantly liked them. Prestige were looking to work with some new riders in the UK and Alice has had an incredible 2015 riding for Team GB and gaining very strong scores. She is known for breeding and producing incredible horses with her mum, Sarah, so they didn't hesitate in working with her once introduced, as she is a good match for them and their goals.
ED: What does Piaffe looks for in working with a rider and what the plan is for the company in building this side of the business?
AN: "Well it's really their attitude and personality first of all and how committed they are to their careers; i.e. what are their short and long term goals? What is their horse power like and more importantly, can Piaffe as a company add value to them either through building their 'brand,' their sponsorships, booking them clinics / appearances and so on. I'm not interested in popularity contests but I do need to feel in partnership with the rider, so that all expectations are managed so communication is key. Naturally when they do a good job in the arena, it is easier to start the conversations with possible sponsors. I do also ask Charlotte's (Dujardin) advice and a few others quite often before a new rider comes onboard, so I can make a well-informed decision. We get approached a lot now across all the disciplines and often people think we just want to work with the top riders but that's not the case. They are all varied and they are all of different ages and levels. Primarily it's about us deciphering their prospects and are they going to be pro-active with us as well, so we can do the best job for them. But yes, we are always looking and open to conversations."
ED: So will you cap the amount of riders you work with?
AN: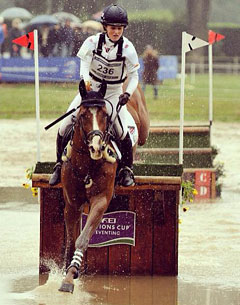 "No, but we won't take on so many and do a half job. It's about quality, not quantity, almost like forming a team and the relationships take time to build. We have recently taken on Jessica Carlin as a freelance consultant who helps manage some of the rider's affairs, notably Alyssa Pitts who is a very talented rider. Jess is from the United States originally so has knowledge of the market and is a dressage rider herself. She also comes from a varied career background and originally was a client of mine. Having almost ten years of experience in the Marketing and PR industries with major consumer brands such Sony Electronics, Virgin Media and Freesat amongst others, she then progressed into the music industry on the artist management and booking side and then into the film industry where she has been working at cinema technology brand RealD since 2012. As the Marketing Manager and being well versed in delivering multi channel marketing campaigns with over 400 cinema exhibitors and studios, she brings real heavyweight knowledge to positioning brands and riders and marketing them. Sadly she had to miss Olympia Horse Show this year, as it was the Star Wars premiere but we forgave her for that one."
ED: What was the highlight of your first official year full time with Piaffe?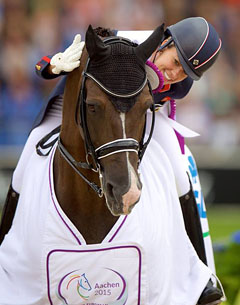 AN: "I have so many!!! Ironically I was asking a handful of tops equestrians that same question for our Facebook wall recently. I would say working with more new clients such as Leamside Equestrian in England. They are so visionary and have a lot of exciting plans for their business including their Stud 'Godrics' which has some prolific pony stallions, so we are working on all that. We also did a project for a jewellery company, RB Jewellers, which was fascinating, and a lot of fun. Charlotte has a limited collection coming out this year with them that she has been working on, so we're looking forward to that. I'd say also, Charlotte becoming the Global Ambassador for The Brooke was a highlight. They do such incredible work, are lovely to work with and the India trip made a real impact on Charlotte and Alice (Oppenheimer) who accompanied her. Her win in Vegas was another massive high point and I personally really enjoyed the trip to New York for the Rolex Central Park Horse Show with her and Ian Cast, where she did a demo. It was a great event – we didn't want to go home!"
ED: What are you most looking forward to this year?
AN: "My immediate focus in January is planning sessions with each individual client and on the non-equestrian front, The Brit Awards in the UK, which we are doing some ad hoc work on again for with another agency. We've also taken on the co-management of a recording artist who is already on the way to being a superstar, although that will be a work in progress and we'll announce who it is at a later date. Barcroft Media, creators of credible factual content for online and television is also a client that hugely excites us. They will be doing more programming for the broadcasters this year and have the biggest YouTube Channel in the News vertical in the world, so we work on a lot of exciting projects with them."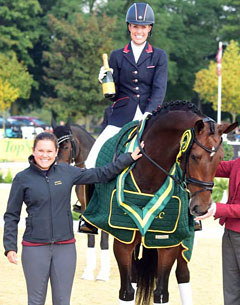 "Naturally the Rio Olympics will be the biggest highlight of the year but outside of that, it will be seeing all the riders we work progress. Piaffe will continue to assist building the Mount St John brand internationally with director Emma Blundell and the annual Open Day she puts on is always a highlight. There are 28 foals due this year, which is very exciting as they continue to be from some of the best bloodlines in the world, notably Dream boy from their special Don Schufro mare Diva Dannebrog, who's also expecting a Johnson. Ehrendame, the mother of Deevoice, the 2014 Lienen three-year old champion mare is again in foal to Desperados, so we are looking forward to a full brother/ sister to her and of course the Furstenball embryo Mount St John are expecting from Weidyfleur, Valegro's full sister is another one. We are very excited about! They also have a few new mares to breed with this season for 2017 foals - Resia, the Ferro mother of Dream boy; Wendela, the San Remo mother of Capri sonne Jr.; and Donnerlady, the Donnerhall mother of Fine lady, all of whom bring very exciting blood and performance lines to the breeding programme. We have also started working with Nina Barbour, who puts on Bolesworth International every year and the Liverpool International Horse Show, which was a resounding success this weekend, so we are really excited to work with her more in 2016 across all of her business. We want to acquire more clients and continue to grow but we will stay selective in that so that it's within our expertise and we can really add value to the client however small or large they are'."
ED: And who inspires or mentors you with Piaffe?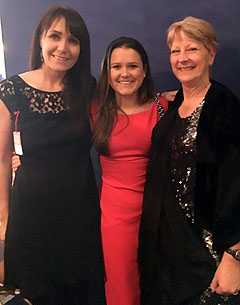 AN: "Gosh, I've been so very lucky over my career to have had a lot of people support and believe in me, so couldn't mention them all here but they know who they are. Sally Fischer who gave me a job at her firm in New York City when I was just 21 years old will always be an inspiration. One of my former bosses at Sony Music, Mervyn Lyn has always been a constant too and seeing Charlotte ride and train never tires. Her and Carl have a gift from above when it comes to horses."
More info on Piaffe at www.piaffe.co.uk
Related Links
Working with the Dressage Elite: Piaffe's Abby Newell Knows the Tricks of the Trade
Piaffe Extends Offering as it Eyes Up International Expansion