American Dressage News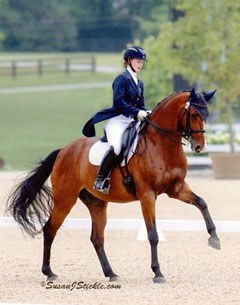 American Under 25 rider Catherine Chamberlain has lost her gold medal winning young rider's mount Verdicci. The 13-year old Dutch warmblood gelding was euthanized on the operation table due to severe peritonitis.
The bay gelding developed a severe colic a week and a half ago and was successfully operated on. Unfortunately the gelding later on got peritonitis and other complications and had to go back into surgery.
"The vets decided his best chance was to go back in for surgery to try and lavage his abdomen and see what else was going on," owner Chamberlein explained. "Unfortunately, once they were in surgery they discovered that the infection was much worse than they had hoped to see and he had severe adhesions in his intestine that would make recovery impossible. He had to be put to sleep so he would no longer suffer."
Verdicci was bred in The Netherlands by Tim Coomans and was by Krack C out of Nadine's Monday (by Jackson). The Chamberlain family acquired him in the U.S.A. as a 5-year old in 2008.
Chamberlain and Verdicci were one of America's most successful junior-young riders' pairs. They competed at the 2009 and 2010 North American Junior Riders Championships, winning individual test and kur silver in 2010. They also contested the 2011 and 2014 North American Young Riders Championships and won individual test and kur to music gold in 2014. They made the transition to Under 25 Grand Prix level in 2015 and competed at the CDI's in Burbank, San Juan Capistrano and Del Mar, winning classes at each show.
"I am so devastated by his loss as he is irreplaceable, not as a competition horse but as my friend," said Chamberlaine. " He has always been there for me, through joy and heartache. I am heartbroken that I will no longer have him to turn to, but will forever cherish the unforgettable memories we have together."
Photo © Sue Stickle
Related Links
Chamberlain and Bergeron Win Kur Gold at 2014 North American Junior/Young Riders Championships
Chamberlain and Bergeron Win Individual Gold at 2014 North American Junior/Young Riders Championships
Catherine Chamberlain Awarded 2014 Fiona Baan 'Pursuit of Excellence' Memorial Trophy
Chamberlain, Burch, Lahey Awarded $3,000 KWPN-NA Training Grant
Pestana Clinches Individual Test Gold at 2010 North American Junior Riders Championships