Danish Warmblood Breeding News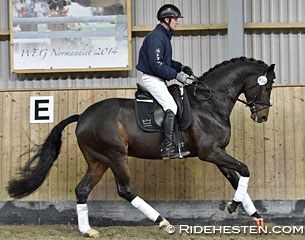 The 3-year old Hesselhoj Donkey Boy became the winner of the 2015 Danish Warmblood Autumn Stallion Performance Testing which concluded on Monday 23 November 2015 at the Torring Riding Centre.
Fourteen stallions participated in the 35-day testing and ten passed the exam by scoring 800 points or more. Only those 10 are allowed to breed for the Danish warmblood society and will also reappear again at the 2016 Danish Licensing in Herning in March for a new assessment.
Five 3-year old and two 4-year old dressage stallions passed the testing. Dennis Fisker is the test rider for the dressage horses.
The highest scoring 3-year old was Hesselhoj Donkey Boy (by Dancing Hit x Milan). Owned by Dorthe and Hans Jørgen Hoeck, the bay colt scored 889.5 points. The other 3-year olds that passed are Zalabaster (876 pts), Feel Good (835 pts), Dreamline (817.5 pts) and Tin Tin (800 pts). Salut Halsnaes failed with 743 points.
The top scoring 4-year old dressage stallion was the Hanoverian bred Farrell (by Furstenball x Dacaprio). Owned by Blue Hors stud, he scored 856.5 points. The one other stallion that passed is Alt For Damerne Firfod (801.5) points. Bogegardens Alphabeat (787.5 pts) and Antobello (770 pts) failed.
Photo © Ridehesten
Related Links
Thirteen Colts to Begin 2015 Danish Warmblood Autumn Stallion Performance Testing
Four Dressage Stallions Begin 2015 Danish 35-Day Stallion Performance Testing