2015 CDI Maastricht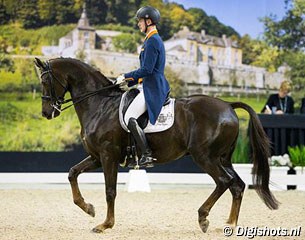 Dutch team rider Diederik van Silfhout steered his number three A-team horse Bonzanjo to victory in the Grand Prix at the 2015 CDI Maastricht on Friday morning 30 October 2015. Fourteen riders contested the Grand Prix at the MECC exhibition centre in Maastricht, which used to be World Cup station in the 2000s.
The ground jury in Maastricht included Mariya Dzhumadzhuk (UKR), Adriaan Hamoen (NED), Ulrike Nivelle (GER), Olivier Smeets (BEL), and Mariette Sanders-van Gansewinkel (NED). The new Ukrainian judge proved that she's still on a learning curve as she struggled to find agreement with her colleagues.
The winner of the class, Diederik van Silfhout and the 9-year old Bonzanjo (by Jazz x Contango), scored a winning 73.480%. Dutch judge Hamoen had the pair remarkably high with 76.100% and the Ukrainian judge was the low score with 69.800%. Three judges had the duo first, one second and one fourth.
German Sönke Rothenberger steered his 16-year old Westfalian schoolmaster Favourit (by Fidermark x Worldchamp) to a second place with 72.500%. The tall student at the Nijmeghen university had the judges more on the same line and produced consistent low seventy percentage marks on the board.
After the sale of his number one team horse Uzzo, Patrick van der Meer is continuing his international dressage career with his rising GP horse Zippo (by Rousseau x Haarlem). In Maastricht the pair posted a score of 72.280% to rank third.
Two Brits travelled to The Netherlands for this show. Laura Tomlinson brought along her Holsteiner mare Unique but had to withdraw on Friday morning as the mare did not feel fit enough in the warm up. Laura's assistant trainer Lara Griffith finished fourth on the Hanoverian gelding Rubin al Asad (by Rubin Royal) with 69.620%. Dutch judge Hamoen had her on 66.500% though, while the others kept their scores at 70%.
"Sadly (I) had to withdraw Minnie from the Grand Prix," Tomlinson commented. "She wasn't quite right, can't risk doing damage. Gutted as was hoping to build on last weekend. Horses!"
The Grand Prix Kur to Music takes place on Saturday 31 October 2015 at 12.30h at noon.
Photos © Digishots
Related Links
Scores 2015 CDI Maastricht
Diederik van Silfhout's Bonzanjo and Emmelie Scholtens Submitted to Dutch A-Team
Patrick van der Meer's Uzzo Sold to Dutch Young Rider