2015 CDI-W Tallinn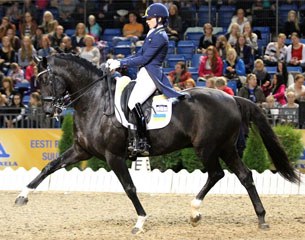 Swedish Jennie Larsson and Ukrainian Inna Logutenkova became the winners of the two dressage classes held at the 2015 Tallinn International Horse Show in the capital of Estonia on 2 - 3 October 2015. Logutenkova and her black Don Gregorius reigned supreme in the Kur to Music which served as an Eastern European World Cup league qualifier.
Trained by Sjef Janssen, the Belgian based Inna Logutenkova posted a score of 76.275% on the board for her freestyle aboard the 13-year old Oldenburg Don Gregorius (by Don Cardinale x Placido).
The winner of the Grand Prix, Jennie Larsson on Antonia Ax:son Johnson's Dutch bred Zircoon Spring Flower (by Painted Black x Armstrong),  finished as runner-up in the Freestyle. The pair scored 73.425%. They aced the Grand Prix with 69.960%, a fraction ahead of Logutenkova who was second with 69.260%.
Third place in the Kur to Music World Cup Qualifier went to Russia's team rider Tatiana Dorofeeva, who was surprisingly refused a team spot this year at the 2015 European Championships. In Tallinn Dorofeeva and the Dutch warmblood stalion Upperville (by Cabochon x Creool) proved their worth and finished third in the Kur on 72.900%.
Swedish Charlotte Haid-Bondergaard has found a bright new partner in her rising Grand Prix horse Roberto des Frettes, who is interestingly bred sired by the Iberian Grand Prix stallion Carinho des Noes. In the Tallinn Kur Haid-Bondergaard finished fourth with 72.300% ahead of Polish Zaneta Skowronska on the liver chestnut Mystery (by Margue H x Delano).
Related Links
Scores: 2015 CDI-W Tallinn
Merkulova and Mister X Impress the Judges and Crowds at the 2014 World Cup Qualifier in Tallinn
Home Town Girl Dina Ellermann Sweeps 2013 CDI Tallinn