KWPN Breeding News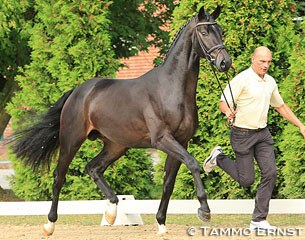 Three extra dressage stallions were accepted to begin the 2015 KWPN Autumn Stallion Performance Testing after being inspected under saddle at the KWPN headquarters in Ermelo, The Netherlands, on Tuesday 8 September 2015.
The 2015 KWPN Autumn Stallion Performance Testing begins on 28 September 2015. Two under saddle evaluations are organized prior to the kick off of the testing with the second one on the starting day of the testing.
The under-saddle presentation is an opportunity for colts, who have been accepted for the testing but never began it for different reasons (not fit, not ready, etc), or for brand new colts who were not yet presented at the licensing. The KWPN Licensing committee decide whether the colts are fit and ready to begin the 50-days testing.
At the first under saddle presentation six brand new dressage colts were presented as late entries and three of them have been invited to reappear for the second under saddle assessment.  The three accepted new comers are Daily Diamond (by Daily Deal x Furst Heinrich x Wolkentanz), Florance (by Furstenball x Rosenkavalier x Freudentanzer) and Havanna II (by Vivaldo x Van Gogh x Fruhling).
Photo © Tammo Ernst
Related Links
Hennessy, Winner of the 2015 KWPN Spring Stallion Performance Testing
Seventeen Dressage Colts Begin 2015 KWPN Spring Stallion Performance Testing