American Dressage News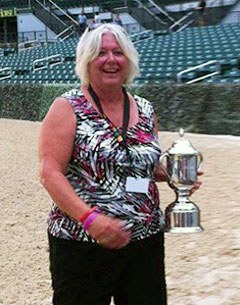 The United States Dressage Federation (USDF) announces that the Albers Award perpetual trophy was awarded to Alberta/British Columbia Chef d'Equipe Leslie Steele at the 2015 North American Junior & Young Rider Dressage Championships in July.
This award, named in honor of longtime USDF Region 1 Chef d'Equipe Patsy Albers, is presented annually to the dressage chef d'equipe that best demonstrates the same level of dedication, enthusiasm, and team spirit shown by Patsy throughout the years.
"I'm very happy," said Steele. "You can't do it without the help of the organizing committee, as they save us by making sure we do the right things. I also have a great group of kids and two wonderful teams."
"The 'village' of people that it takes to get athletes to the NAJYRC is staggering.  The chef d'equipe is quite often the unsung hero who rarely gets the recognition they deserve.  This award recognizes the tireless work that a chef performs, both before these championships and during the actual event, which enables the athlete to concentrate on performing at their best.  Leslie Steele's dedication to this position can be a standard by which all future chefs d'equipe can aspire," stated USDF FEI Jr/YR Committee Chair Roberta Williams.
Related Links
Debbie DelGiorno Recipient of 2014 Patsy Albers Award Perpetual Trophy
Patsy Albers Award Fund to Honour High Performance Young Riders
Patsy Albers Passed Away