Swedish Dressage News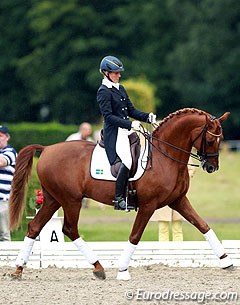 The Swedish equestrian federation has announced that the Swedish Grand Prix A-team has been expanded with two new riders: Marina Mattsson and Anne Svanberg.
Based on the good results recently achieved with their Grand Prix horses, the 21-year old Mattsson and 43-year old Svanberg were now submitted to the A-team.
"Both riders are well worth it," said Swedish team captain Bo Jena. "Both are very talented young riders who have proven themselves at this level."
The Swedish equestrian federation has three squads for the highest level of dressage: the top/elite group (spetstrup), the A and the B-team.
The current Swedish Grand Prix squads include:
Elite Group
Paulinda Friberg
Jeanna Högberg
Patrik Kittel
Rose Mathisen
Emilie Nyreröd
Minna Teld
Tinne Vilhelmson-Silfvén
A-team
Cecilia Andrén Dorselius
Charlotte Haid Bondergaard
Malin Hamilton
Mads Hendeliowitz
Jennie Larsson
Juliette Ramel
Maria von Essen
Kristian von Krusenstierna
Anna Svanberg
Marina Mattsson
B-team
Caroline Darcourt
Per Duvefelt
Ulla Håkanson
Natalie Oldfors
Photo © Astrid Appels
Related Links
Swedish Team Selected for 2015 European Pony Championships
Ivarsson, Mattsson, Kittel Win 2015 Swedish Dressage Championships
Patrik Kittel Honoured as Swedish Dressage Trainer of the Year 2014
Aldenfalk, Strolchi, Darcia VH Honoured at 2014 Swedish Riders' Gala